Grepow Battery, as a manufacturer with independent R&D and production of battery cells, has been deeply engaged in the field of RC model power solutions for years accumulating rich specialized technical experience. To provide a budget-friendly and high-quality option to the RC market, its sub-brand Gens Ace in 2009, and has been growing as a household name among hobbyists ever since. With a wide selection of batteries for racers, crawlers, bashers, and pilots. 
Grepow RC Car Battery Gens Ace Product Features 
● Super explosive power, strong and powerful.

● Adequate capacity, stable discharge platform and sufficient endurance.

● Adopting special high rate battery cells.

● Longer service life: more than 150+ times.

● Well-made shell, anti-collision deformation, better protecting  the battery. 

● Complete qualifications on competition level and import/export certifications.

● Meet the different needs of each rider with multi- and complete model specifications. 

● Advanced automatic manufacturing equipment and technology, lower internal resistance of the battery and higher charging and discharging efficiency.
| | |
| --- | --- |
| | This 11.1V 5300mAh model car battery is a model car high magnification battery specially developed and designed for competition grade RC racing cars, and is one of the Gens Ace RCCar battery series (Gens Ace, the RC model brand of Grepow Battery). This regular series of battery is suitable for most mainstream electric model car types on the market, with sufficient capacity, long life, strong power, explosive force, safety and stability, etc. It is the preferred model car battery for competition-level players. |
Specs of Gens Ace 5300mAh 60C HardCase Lipo Battery Pack



Gens Ace 5300mAh HardCase Lipo Battery Pack

Capacity:

5300mAh

Connector Type: 

EC5

Voltage:

11.1V / 3S1P

Balancer Connector Type:

JST-XHR-4P

Discharge Rate:

60C

Applicable Model Size:

1/7, 1/8, 1/10 RC cars

Net Weight (±20g):

406g

Wire Gauge:

12#




Max Burst Discharge Rate (C):


100C

Size (±5mm): 

 138 x 46 x 38(L*W*H)
Hardcase Lipo Batteries Usage:
Gens Ace 5300mAh 11.1V 60C 3S1P Hardcase Lipo Batteries are compatible with most models of ARRMA, Aquacraft, Associated, Axial, Duratrax, ECX, Exceed, HPI, Helion, Hot Bodies, Kyosho, Losi, Ofna, Pro Boat, Schumacher, TEAM DURANGO, Traxxas, Vaterra,Redcat Racing Gen 8.
Custom RC Car battery cells and battery packs
Do you need a custom size or shape battery to complete your product? At Grepow our technical team is ready to provide you with a customized solution to meet your battery power requirements.
Grepow manufactures several different battery chemistries including: nickel metal hydride(NiMH), lithium iron phosphate(LFP) and lithium polymer(Lipo)
Many solutions available, such as:
1) single cell batteries manufactured in custom sizes and shapes;

2) custom single cell batteries with a wiring harness, connector and label;
3) custom single cell batteries with a wiring harness, connector, circuit protection board, hardcase, development of customized packaging, and product specific special technology such as a battery management system ( BMS );
4) custom battery packs designed to fit your application.
Why Choose Grepow Gens Ace to OEM or ODM Battery
We hav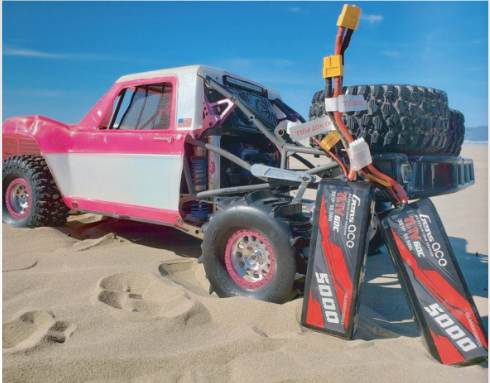 e more than 200 engineers and supporting technical staff to create a solution for you. Our research and development team will bring your battery power requirements to life using our cutting-edge technology equipment and processes. Currently we are the only battery manufacturer in China that can research, develop independently and manufacture nimh, lipo and life batteries at the same time.
▶Source manufacturer, physical factory, strong R&D production capacity, short delivery time and sufficient stock.
▶Self-developed high rate lithium battery cells, sufficient capacity, refusal of false label, guaranteed capacity.
▶Strict quality control: construct a full range of quality system from parts to finished products to ensure product quality
▶Safe and reliable in line with a variety of domestic and international battery certification
▶Perfect service system: quick response to customer problems and provide solutions
▶Provide local instant customer support in China, USA and German

Inquiry
01

Evaluation
02

Specification & Verification
03

Quotation
04

Sample Production
05

Price Verification
06

Production Schedule
07

Shipment
08