Grepow Charger Solution Technology with G-Tech Design, the Imars D300
Editorial:Danae
Issue Date:2023-04-10
Views:1840
In order to solve the problem of improper operation of RC enthusiasts' batteries and chargers, Grepow (Gens ace) has been continuously exploring and developing, and finally succeeded in launching the G-Tech intelligent ecosystem. This system uses special chip technology to make the connection and identification of the power system intelligent and no longer requires tedious adjustment operations. Various parameters will also be displayed intuitively, bringing a new experience for enthusiasts to use.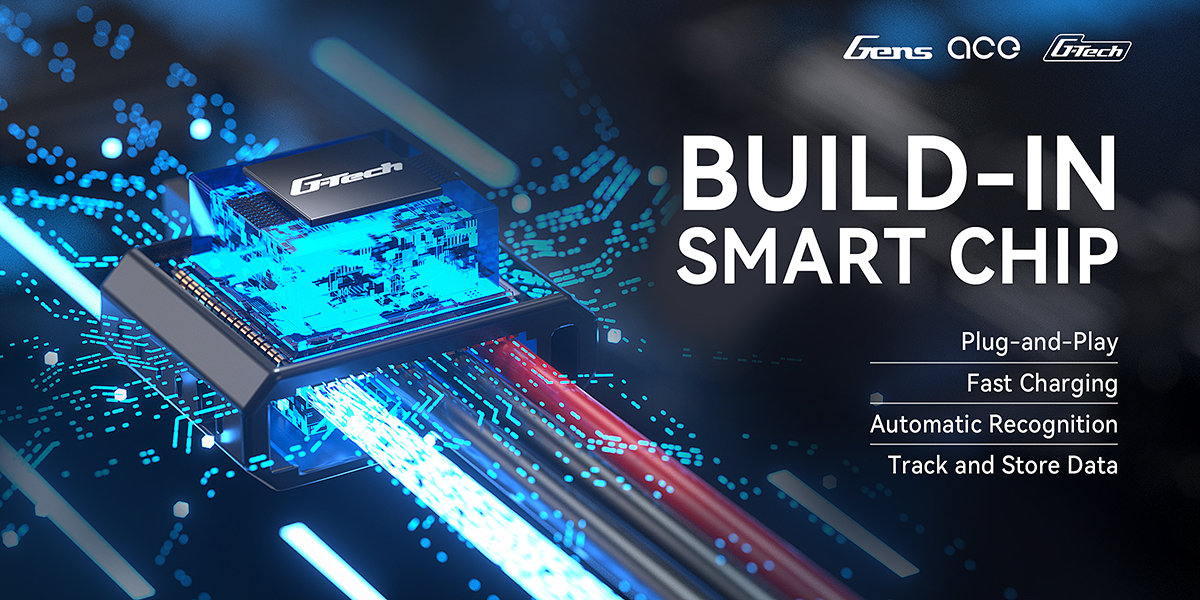 Imars D300 is categorized within Grepow's RC field sub-brand Gens ace. It is a smart charger that retains the unique design of the G-Tech balance connector for maximum durability and quality. With a maximum 16 Amp charge rate for one channel, AC 300 Watts, DC 700 Watts, and worldwide 100V-240V voltage versatility, this charger is capable of high power charging.
Some of the key features of the Imars D300 Charger include plug-and-play operation, fast charging, automatic recognition, and the ability to track and store data. Designed specifically for the Gens ace G-Tech smart battery, it is also compatible with non-smart batteries.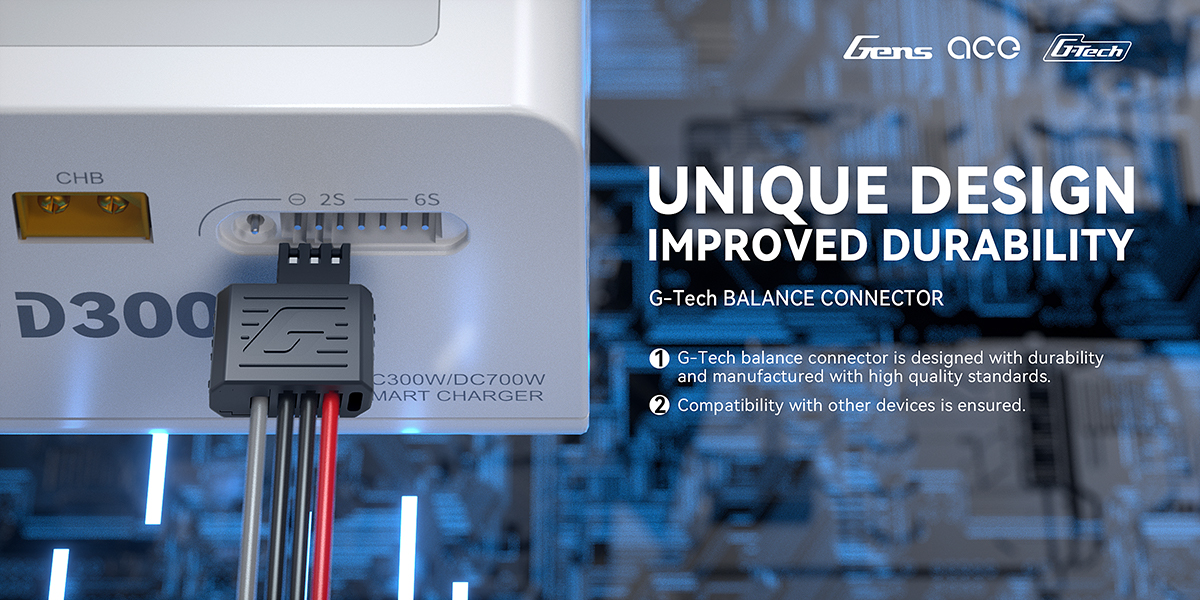 When connected to a G-Tech smart battery, the Imars D300 charger automatically identifies the battery type, voltage, and charging current recommended by the battery manufacturer through the smart balance connector. Charging begins automatically after just 5 seconds, and the charging parameters are optimized to prolong the battery life. All information such as battery cycles, individual cell voltage, and capacity are displayed.
The Imars D300 Charger is a versatile and intelligent charger that supports both charging and discharging. It features a DC port power supply that can support a maximum single-port 350W charging and an AC power supply that supports intelligent distribution of total power. With a power rate of 300W and the ability to charge up to 16A, this charger offers simple and user-friendly operation.
For non-smart batteries, it is necessary to manually select the battery type and the required working mode to get started. The Imars D300 Charger offers a range of features, including dual channel AC/DC smart balance charging, a small and lightweight portable design, a wide-view IPS display, and high power charging.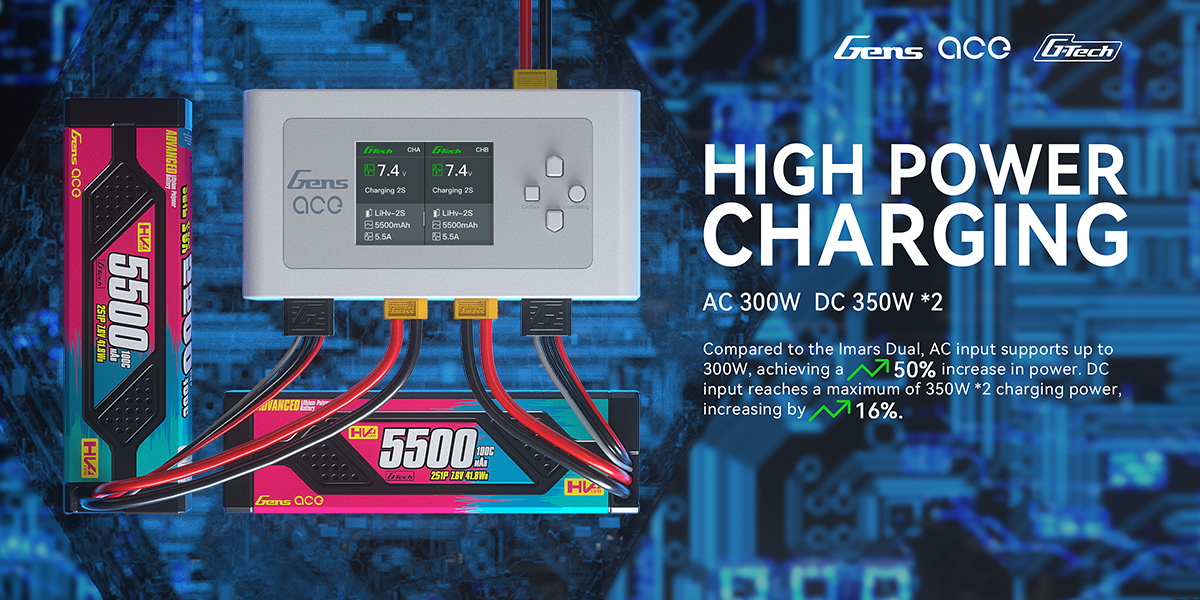 Compared to the Imars Dual, the Imars D300 Charger offers even higher power charging, with AC input supporting up to 300W, achieving a 50% increase in power. DC input reaches a maximum of 350W *2 charging power, increasing by 16%.
With its small size and 7 modes - charge, discharge, balance, storage, ExtDischarge, SyncCharging, and digital power supply - the Imars D300 Charger is an efficient, safe, and reliable power solution that can be used in a wide variety of applications, such as RC helicopters, airplanes, boats, cars, and FPV.
Experience the ultimate in smart charging with the Gens ace Imars D300 Charger - designed to enhance your user experience with great convenience.
For any battery or charger solutions, please feel free to contact Grepow by email at info@grepow.com. Get more G-Tech ECO details, please chlick the link: https://genstattu.com/gens-ace-g-tech-eco
Imars D300 details: https://genstattu.com/gens-ace-imars-d300-charger
Related Articles
Related products
Comment(0)
Comment( Your email address will not be disclosed. Required fields are marked as * )