Grepow Newest & Lightest Charger Solution - Gens Ace IMARS Mini
Editorial:Danae
Issue Date:2023-02-02
Views:371
Grepow's smallest charger solution - IMARS mini is available now. As the compactest size charger, weighing only 64g, it frees up more energy and space for your power system.
IMARS mini charger is the first member of the G-Tech Smart Ecology System created by Grepow and Gens ace, which can not only charge the G-Tech smart battery, but also compatible with normal Lipo batteries on the market.
Video
Grepow designs and manufactures acomplete set of intelligent charging solutions, including the"G-Tech battery and intelligent charger solution". G-Tech has our own patented design Technology compatible with more than 99% of the model chargers and batteries on the market today. Compared with traditional charging methods, G-Tech intelligent charging can be accomplished without setting any charger parameters such as battery type charging current, voltage, etc. G-Tech is efficient, safe, and can be used in a wide variety of applications such as RC helicopters, airplanes, boats, cars, FPV and UAV. It is the most reliable and convenient power solution for enthusiasts new and old alike.
When the Gens ace G-Tech battery is connected to the IMARS mini charger, the charger will automatically identify the battery type, voltage through the smart balance connector, and charging current recommended by the battery manufacturer. The charger will start charging in 5 seconds automatically after G-Tech smart battery is connected.
For non-smart batteries, it's necessary to manually select the battery type and the required working mode to get it started. The charger can intelligently adjust the charging current according to the charging voltage flow of the battery, this is the best value automatically adjusted by the charger according to the reality of the battery.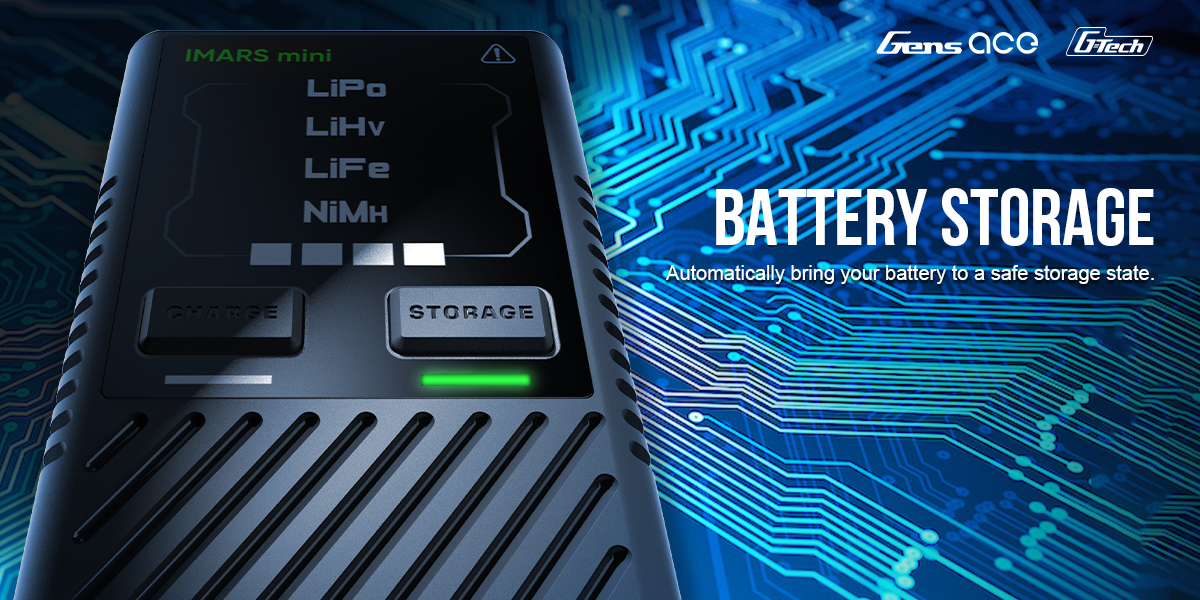 The maximum charging power of the IMARS mini is 60W and the maximum charging current is 5A, and it can charge 2-4S LiPo, LiHV, LiFe, and 2-12S NiMH batteries. It is also the smallest and has a storage function charger, solving the possible situation when the battery storages with overvoltage, full power, low power, etc., to maximize protect the battery, allowing you to leave your worries behind. The new lightweight design increases the balance connector's durability. The input port is a convenient USB-C with protocols including QC/PD/BC1.2/USB-C V1.4/SDP/CDP/DCP/Apple 5V/2.4A (Does not support 5V/1A adapter input).
Learn more on the IMARS mini charger product, please click here. For the EU version, please click on: https://www.gensace.de/gens-ace-imars-mini-g-tech-usb-c-2-4s-60w-rc-battery-charger-with-power-supply-adapter-and-adpter-cable-eu.
Grepow has been actively improving its product development capability, and the derivative power of the G-Tech Smart Ecosystem that we have built is strong. Please remember that we accept all kinds of smart charger solutions, any requests, please feel free to contact us.
Related Articles
Related products
Comment(0)
Comment( Your email address will not be disclosed. Required fields are marked as * )