Tattu Plus 3.0 Drone Battery: Unique Design and Smart Battery
Editorial:VickyWu
Issue Date:2020-08-06
Views:7252
Tattu plus 3.0 version is a smarter battery with BMS, and has unique design, aluminum housing heat-dissipation, sealed waterproof, smart external anti-spark device, portable smart checker, drawer slides design and LED indicator.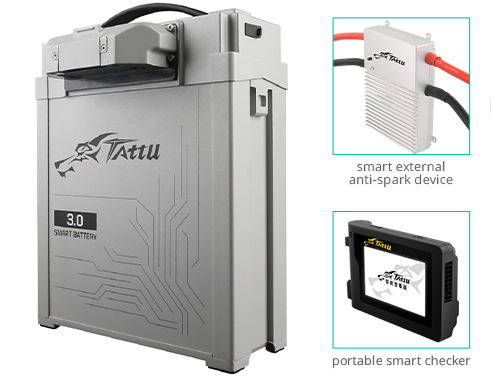 Specifications:
- Capacity (mAh): 19000 - 25000
- Battery Voltage: Support 44.4V-51.8V (12S-14S)
- Charging Current: 3C Fast Charging
- Discharging Current: Continuous Current 150A Peak Current 200A
- Working Temperature: -20℃ - 80℃
Features:
- Suitable for 14S, 19Ah/22Ah/25Ah
- 3C Fast Charge
- Plug and Play Installation
- Long Cycle Life
- Anti-Spark Function
Application:
Tattu Plus 3.0 used in agricultural spraying (plant protection), security mapping, cargo shipping, power inspection and other industries drones.
About Tattu Brand:
Tattu is one of Grepow self-owned brands, Tattu focused on FPV / Multirotors / Drone UAV battery pack and designed with high energy density and high discharge rate cells. It has highly reputation in the market with its stable performance. We are committed to supply the safe, stable as well as long cycle life battery for UAV. If you have any require, please email us: info@grepow.com.
You May Also Like:
Related Articles
Related products
Comment(0)
Comment( Your email address will not be disclosed. Required fields are marked as * )