Tattu Low Temperature Drone Battery: 14500mAh 6S 30C Lipo
Editorial:UAV BATTERY-VickyWu
Issue Date:2020-07-25
Views:3417
As it is well known that Grepow has a certain outstanding performance in the low temperature battery field, Recently, Tattu has launched a low temperature series of uav battery --- Tattu 14500mAh 6S 30C lipo battery.
It has stable automatic stacking technology, high capacity than comparable size pack and no memory effect. It is a nice compact little battery, with excellent build and assembly quality. This 14500mAh battery is specially designed for low-temperature requirements. Low IR value of these batteries also provides stable voltage until the end of your mission.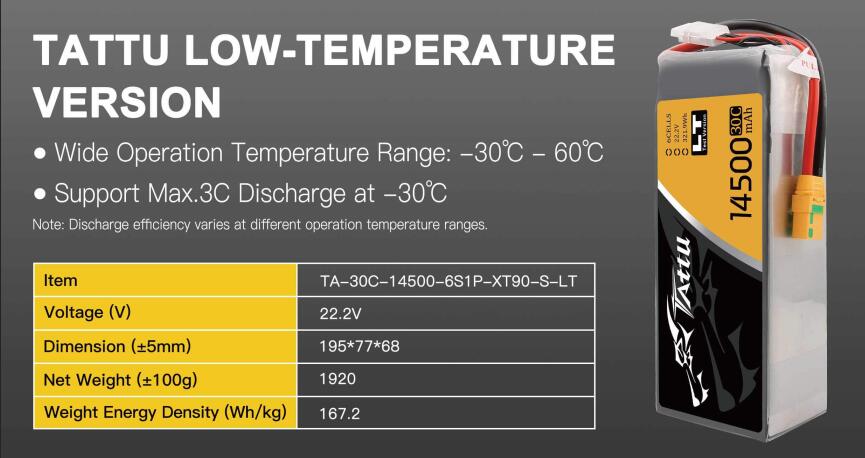 Features:
Wide operation temperature range: -30℃~60℃

Support max 3C discharge at -30℃

The most strict single cell capacity, voltage, resistance, discharge curve matching process

No memory effect
Note: Discharge efficiency varies at different operation temperature range.
Specifications:
Minimum Capacity: 14500mAh

Configuration: 6S1P / 22.2V / 6 cells

Discharge Rate: 30C

Net Weight(±100g): 1920g

Dimensions(±5mm): 195*77*68mm

Discharge Connector Type: XT90 anti-spark plug

Balancer Connector Type: JST-XHR
Application:
Tattu 14500mAh 6S1P 30C lipo battery is specially designed for UAV drones operated at low temperature range.
Test data:
Tattu low temperature battery version improved battery material design to support Max. 3C discharge at -30℃ low temperature. Discharge over 90% efficiecy at -10℃ and discharge over 80% effeciecy at -30℃. And the low temperature version has broked througt the discharge temperature limits of -30℃ to 60℃.


About Tattu Brand
Grepow self-owned brands "格氏ACE", "GENS ACE" and "TATTU" are renowned home and abroad. Tattu focused on Drones / Multirotors / UAV battery pack and designed with high energy density and high discharge rate cells. It has highly reputation in the market with its stable performance. We are committed to supply the safe, stable as well as long cycle life battery for UAV.
You may also like:
1) Why Choose High Voltage Batteries
2) Tattu 6S High Voltage UAV Drone Battery
3) Tattu Plus 12S Smart Drone Battery List
4) Tattu Plus 6S Smart LiPo Battery for Drone
Learn more UAV Drone Batteries' informantion? please check HERE
Not Find You Need? Try Our Customized Service; Professional Customized of Drone Batteries and Battery Solutions.
Any questions please let us know: info@grepow.com
Related Articles
Related products
Comment(0)
Comment( Your email address will not be disclosed. Required fields are marked as * )