One Day Left | Join us at the Japan Drone!
Editorial:Phina
Issue Date:2023-06-25
Views:1073
Exhibition Details
Date: June 26th to June 28th, 2023
Location: Tokyo Makuhari Messe, Japan
Booth Number: Hall 6, AO-5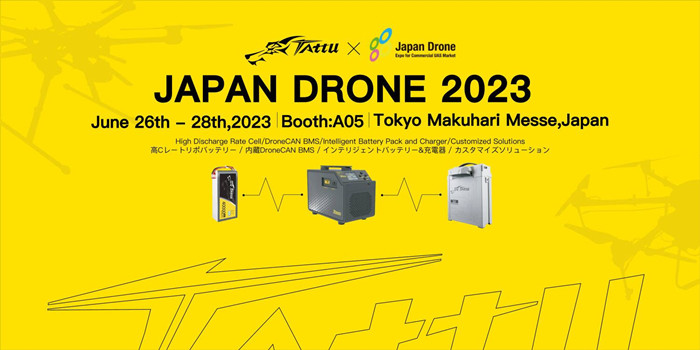 Exhibition Introduction
Japan Drone, the Japan Tokyo Drone Exhibition, is organized by the Japan Drone Industry Development Association and is the most influential exhibition in Japan for drone research, development, and technological environment.
In addition to the Japan Drone Foundation Symposium, an innovative drone seminar will be held, hosted by world-class experts, providing analysis and overviews of the domestic and international drone market.
The 7th Japan Drone Exhibition in 2022 attracted 187 exhibiting companies and 17,021 professional visitors.
This exhibition will showcase new products and services in the drone industry, making it a significant and influential drone exhibition and an important platform in the Asian drone market.
About Grepow
Shenzhen Grepow Battery Co. Ltd., established in 1998, is committed to independent research and development, manufacturing, and marketing. With over 200 battery R&D professionals, Grepow has successfully applied for over 200 national technology patents. Grepow has three production areas and one international sales center in Shenzhen. Additionally, it has a self-built production base in Hunan Province, known for its advantageous location and favorable investment environment, with a total area of 150,000 square meters.
Since its inception, Grepow has successfully launched mature and stable high-performance products, expanding globally. It has subsidiaries or offices in countries and regions such as Germany, the United States, and China.
Grepow is a professional battery manufacturer with increasing market competitiveness in polymer lithium batteries, nickel-metal hydride batteries, custom-shaped batteries, battery packs, and more. It owns international independent brands such as Tattu, Gensace, Battery Workshop, and lokithor, etc.
As a supplier of high-end power system solutions, Grepow batteries are widely used in various fields, including drones, RC models, agriculture, racing cars, automotive accessories, medical devices, outdoor equipment, maritime applications, special industries, industrial applications, wearable devices, AR/VR, and consumer electronics.
It is known that Grepow is not only a drone battery manufacturer but also a solution provider that can provide customized solutions and meet customers' integrated battery customization needs. Grepow batteries are widely used in industrial and special electronic equipment, consumer electronic devices, and special applications.
Related Articles
Related products
Comment(0)
Comment( Your email address will not be disclosed. Required fields are marked as * )