UAV's Battery- Revolutionizing the Future of Agriculture
Editorial:Danae
Issue Date:2021-03-25
Views:1702
In a world full of technological advancements, one must understand how they need to stay competitive in their quality of work and ensure a securer future as a business entity. One of the most significant sectors that have been boosting its productivity using tech gadgets has been the agriculture industry. It's critical to note that modern problems require innovative solutions. What better way to ensure higher efficiency than incorporating a machine that reduces wastage and saves time.
Ever thought about how? Let's discuss the potential of a drone and why it needs to be powered by the excellence of a top-notch agricultural drone battery.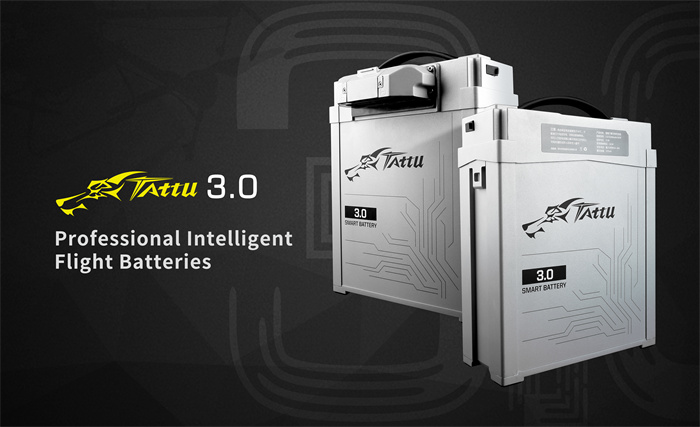 Why Do We Need a Drone in Agriculture?
Farmers are trying to up their game, increase their productivity with less human exhaustion by introducing drone technology in agricultural practices. Many farmers choose to take action based on their data analysis. An agricultural drone enables a farmer to cover a wide area in no time, collect and deliver precise data on the soil conditions. This allows a farmer to cater to his soil nourishment needs accordingly. The agricultural drone can also help fight insecticides and pesticides by identifying the patches they exist on. A farmer can efficiently conduct agricultural spraying using a drone. This would also reduce the manpower required on the field as vast areas would be covered by the drone in no time. Planting seeds through agriculture drone is quite a new technique that is gaining much popularity among farmers. After the soil is prepared, the drone simply starts dripping the crop seeds in it. How to Choose the right Agricultural Drone Smart Battery? When deciding upon a battery for your drone, it is suggested to answer a few questions to maintain your agriculture drone's long healthy life.
Suggestion
Voltage
It's crucial to know the battery voltage when buying an agricultural drone battery as its relation is directly proportional to the drone's motor's power. High voltage can help your drone motor get more power. If you don't want to rely on increasing the number of batteries to get high voltage, you can choose Semi Solid Batteries with higher energy density or High Voltage ( HV )batteries, both of which can extend the flight time of your drone.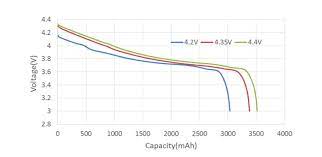 The graph above reflects the difference in capacity between three fully-charged batteries at 4.2V, 4.35V, and 4.4V.
Connecting a battery to a drone can be a real pain for drone owners. Therefore it's better to choose a battery that is easily compatible with a connector. The common plugs are XT90-S, AS150, XT150, TA1200, AS150U-F, XT60, EC5, XT90I, ANDERSON175, 3.0 plugs and QS8, all of which we can provide to make you save more in detail service.
Expert advises you to choose those batteries with an optimum discharge C-rate. Because agricultural drones require more current to perform during takeoff and landing, to ensure that your drone performs its maximum function, check the motor specifications and evaluate the maximum current received using the following formula.
Maximum continuous current consumption = battery capacity * discharge rate
For example, a 10C - 2,000mAh battery can safely be discharged at 20,000mAh 10 * 2000 = 20,000 mAh The biggest factor affecting C-rate is the internal resistance (IR), which limits the maximum current output of a LiPo battery. If the battery has a lower C-rate value, then the IR will also be higher. As the throttle increases, the voltage of the battery drops, a "voltage dip" that can make the drone less powerful.

Battery Capacity
Most of your drone's core functions depend on your battery's capacity, for instance, your flight duration. If your agricultural drone battery's capacity is too less than the chances are, your drone will not be able to complete its journey and may die in mid-air.
Size and Weight
Make sure your battery is compact and light in weight to ensure your drone's smooth operation. A battery that weighs more can make it difficult for your drone to maintain its altitude, and take-offs can fail.
Brand's Quality
A brand's reputation plays quite a prominent role in building clientele. As a customer, one needs to look for a brand known for its quality and distinctive image that makes them trustworthy. Power your Drone with Grepow's UAV Batteries! A highly efficient drone requires a high energy density. If you've been facing battery life issues with your drone, chances are that you are not operating at your full capacity, and there is room for improvement. Fret not! Grepow is a highly reputable UAV battery manufacturers in town offering top-quality agricultural drone batteries for optimum utilization.
Newest UAV Battery
Understanding the changing market demand, Grepow developed a new compact version of the Tattu plus1.0 16000mAh 12S compact smart battery, which is approximately 500g less in weight as compared to the original version. This new version has a high energy density above 15Wh/kg, which is considered a great innovation. https://www.youtube.com/watch?v=kmsxq9lLEbE&t=2s What makes it a winning product is how the manufacturers have brought positive additions without compromising its capacity and quality. Grepow takes full pride in developing this new version of the UAV battery, perfected with much attention to minor details. This Grepow's UAV Battery is great for agricultural plant protection, power inspection, security mapping. Not only this, but it also has application in several other industries. Get Efficient with Tattu plus1.0 16000mAh 12S Compact Smart Battery! But wait! There's more…
Customized UAV Battery
For those who have a complex drone with unique specifications or are in the process of making a prototype, Grepow offers its customers the privilege to get a customized battery. They meet all your concerns and requirements regarding power compatibility and offer a battery specifically tailored for you.
Features of Battery BMS
Communication Protocol
Communication Protection
Battery-Status Indicate
Self-Inspection
Record of Use-Time
Current Detection
Ultra-Low Power Consumption
Record of Any Abnormalities
Connector XT90, XT90I, AS150U
Bluetooth
Cloud Management
The 16000mAh 12S battery is lighter and uses a one-piece shell with a distinctive aluminum design that ensures better heat dissipation and is much appreciated for being water-proof. Most farmers complain of losing their drones during pesticide spray. However, with this state-of-the-art battery powering your drone, you can easily enjoy stress-free pesticide spraying with greater convenience and ease of mind.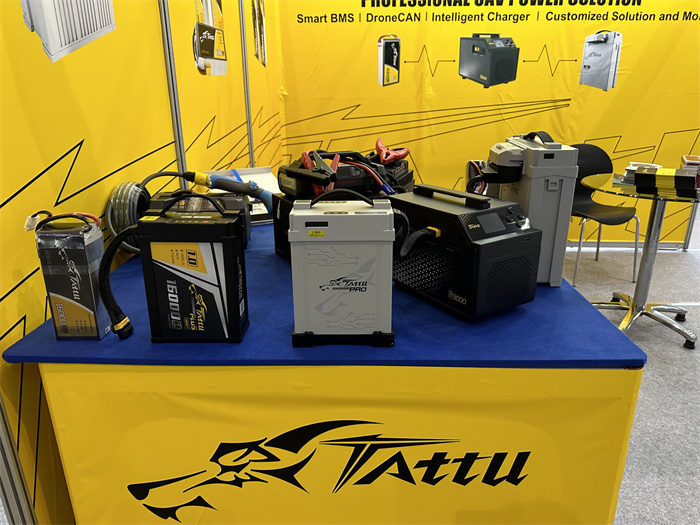 BMS, the communication protocol UAV CAN, has also been incorporated to guarantee extensive protection for your batteries and drone life. The highly recommended battery manufacturers, Grepow, launched the TA1200 charger that can recharge 12S batteries, charging two batteries simultaneously. The maximum power output of each channel is 750W at 100-120V and 1200W at 180-240V.
Wrap up
If you have been looking for the ideal agriculture drone battery manufacturers you can rely on, Grepow is undoubtedly one of the highly trusted brands in the market that ensure premium quality batteries for your drone's longer life and better performance.
Related Articles
Related products
Comment(0)
Comment( Your email address will not be disclosed. Required fields are marked as * )