Low Temperature LiFePO4 Battery Features 
●Technical features

Low internal resistance due to stacking technology

● Wide operating temperature range

The lowest temperature can reach -45℃ and the highest temperature can reach 60℃

● Long cycle life

Adopt lithium iron phosphate chemical substance, high safety and long cycle life

●Support battery customization

Flexible size and shape of the battery can be designed according to customer requirements

●Charging temperature


Can be charged at -20℃

●Safe and reliable with various certifications

UL/CE/UN approved

●Excellent low temperature performance

Discharge capacity over 85% of initial capacity by 0.2C in -20℃, 70% in -30℃, and about 55% in -40℃



Part of the low-temperature LFP cells parameters table
| | | | | | | | |
| --- | --- | --- | --- | --- | --- | --- | --- |
| Model NO. | C rate | Capacity (mAh) | Nominal Voltage | Weight (g) | Thickness (mm) | Width (mm) | Length (mm) |
| GRP6659134 | 1C | 4700 | 3.2V | 99.5±3.0 | 6.4±0.2 | 59.0±0.5 | 134.0±0.5 |
| GRP93C0246 | 1C | 25000 | 3.2V | 515.0±10.0 | 9.0±0.3 | 119.0±1.0 | 245.0±1.0 |
| GRP9570175 | 3C | 10000 | 3.2V | 214.0±5.0 | 9.2±0.3 | 69.0±1.0 | 174.0±1.0 |
Discover the exceptional power of Grepow's Lithium Iron Phosphate Cells, boasting an extraordinary capacity of 40000mAh per cell. Explore our range of cell models by contacting us today.
Why Choose Grepow -45℃ LFP Cells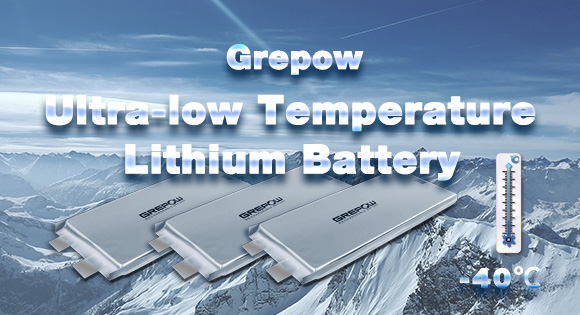 Grepow low temperature lithium iron phosphate (LiFePO4)pouch cells can work in the low temperature range of -45℃ to 60℃, which is a special battery specially developed by Grepow to overcome the inherent low temperature defects of chemical power sources. Grepow low temperature lithium iron phosphate battery after a long period of research and development test summary, has a professional formula and innovative technology, through the use of unique electrolyte formula and other special features of raw materials to ensure that the battery can still discharge efficiently at extremely low temperatures performance. It is a series of low-temperature LiFePO4 pouch cells developed by overcoming many technical bottlenecks.
We offer the following services.
● Flexible support for customization: Size is flexible, and the size and shape of low-temperature LiFePO4 batteries cells can be designed separately on customer needs.
● Reliable and stable performance
● Sample and mass production are offered
● OEM and ODM services available
Application of Grepow Low-Temperature LFP Cells
Grepow designs, develops and manufactures high performance low temperature lithium iron phosphate batteries for military equipment, aerospace industry, deep sea diving equipment, polar scientific investigation, power communication, public safety, medical electronics, AGV, RV, etc. Grepow R&D team can provide the best solution for your battery application needs.

Inquiry
01

Evaluation
02

Specification & Verification
03

Quotation
04

Sample Production
05

Price Verification
06

Production Schedule
07

Shipment
08