Home
>
Information
>
Company News
>
Grepow Ltd. Announces Partnership with Energysquare with PbC® contact-based wireless charging technology
Grepow Ltd. Announces Partnership with Energysquare with PbC® contact-based wireless charging technology
Editorial:MikeLam
Issue Date:2020-09-24
Views:2932
Shenzhen, China - September 21, 2020 - Shenzhen Grepow Battery Co., Ltd. (Grepow), a leading battery design and customization company, announced a partnership with French company EnergySquare to further develop the breakthrough Power by Contact (PbC) wireless-charging technology.
Grepow and EnergySquare are working together to develop a battery embedded into Power by Contact. This new solution will unlock the myriad of possibilities for fast and efficient wireless charging in electronic devices for the workspace, commercial, industrial and medical industries, powertools, and drones.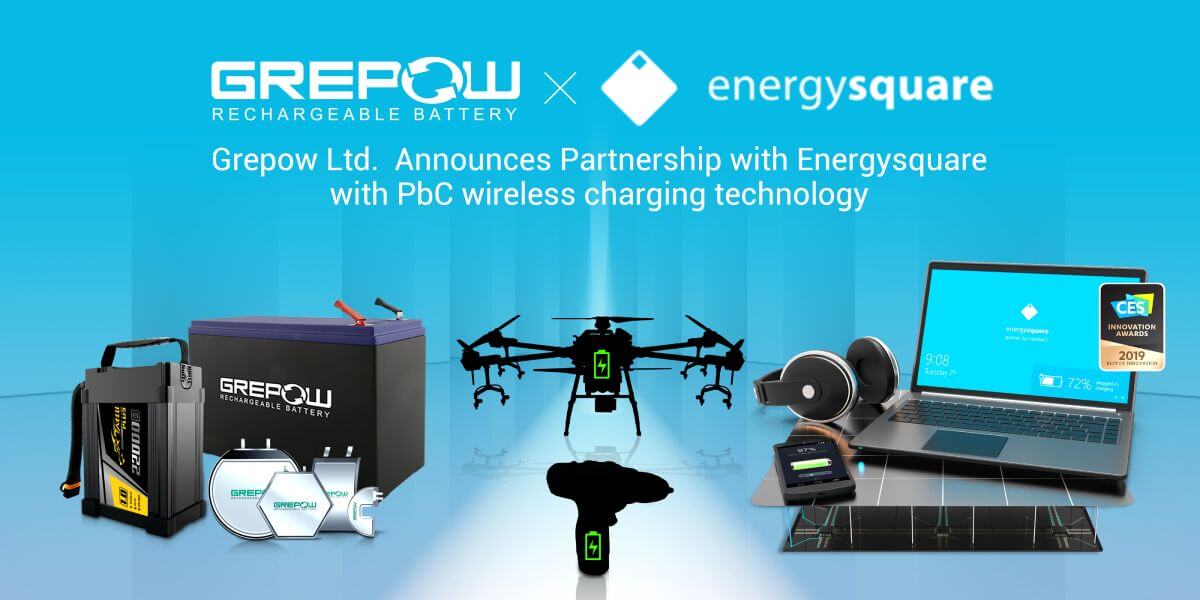 "We are pleased to announce that Grepow and EnergySquare are now officially partners," said Peter Liu, CEO of Grepow Ltd. "We will be able to provide customers a conductive wireless charging solution with Grepow's battery and with the same charging efficiency as cable charging. It can achieve a synergy effect where 1+1 is greater than 2."
Peter pointed out that the core purpose of Grepow Ltd. is to become the most comprehensive power-solution supplier in the world﹣and the future is the world of wireless charging solutions. With the PbC technology, charging your device does not require cumbersome, manual removal of the battery or charging cable. Instead, the wireless connection allows for more convenience and even minimizes the investment of personnel in industrial scenarios to achieve ultimate full automation.
"This strategic partnership with Grepow is a key milestone for seamless integration of Power by Contact technology in electronic devices. We are pleased and honored to develop a solution that will bring ergonomics and a better charging experience to electronic device users with Grepow, global leader in battery technology. In recent years, energy-saving products and technology became a top priority for corporations and consumers, this is the reason why Energysquare is proud to bring the best energy efficiency to the wireless charging market." said Timothée Le Quesne, CEO of Energysquare.
About EnergySquare
Energysquare, a French company founded in 2015, is developing the new wireless charging technology "Power by Contact". Unlike inductive charging technologies on the market, Power by Contact allows the wireless charging of several devices simultaneously, at the same speed as a conventional charger, at high power and without energy loss. The company, which has a large portfolio of international patents developed with France Brevets, sells licenses of this French technology to international electronic device manufacturers. Energysquare was awarded Best of Innovation at CES 2019.
Power by Contact technology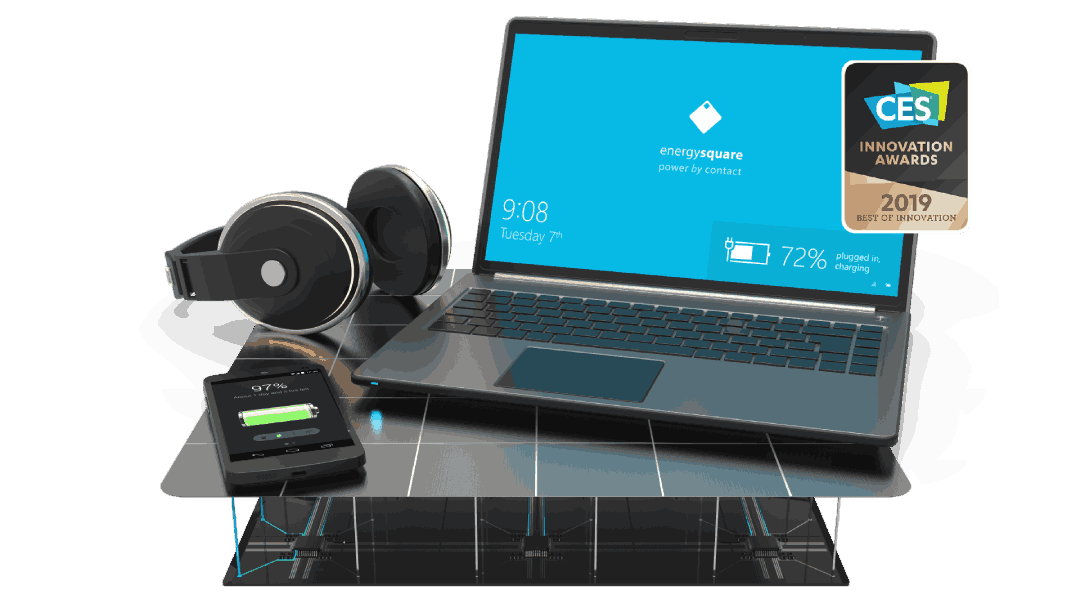 Unlike the induction charging solutions currently on the market, Power by Contact, operating by conduction, is a concentrate of advanced microelectronics and algorithms that allow users to charge all their devices simultaneously on a single surface, at maximum speed, without electromagnetic waves. This has many advantages for users: no interference, no overheating, no energy loss. In addition, Power by Contact is the first technology that allows any laptop to be charged wirelessly. Power by Contact can be coupled with wireless data transfer features for a global full wireless solution.
About Grepow
Grepow Battery Ltd., founded in 1998, is an accomplished battery company and manufacturer that specializes in LiPo, LiFePO4 and NiMH batteries. It utilizes advanced technology on a wide number of fields, such as drones, wearable devices and industrial applications. It also customizes batteries with any shape for their customers' needs, and it has manufactured batteries with high discharge rate and low-temperature resistance.
Grepow Battery Ltd. has branches all over China in Futian, Shenzhen; Hunan; Zhejiang; Tianjin; and Xinjiang. It also has foreign branches established in California, USA (Grepow INC.) and Korschenbroich, Germany (Genspow GmbH). There are a total of 4 factories covering an area of 15.2 hectares and roughly 3,000 employees, 200 of them in the R&D department.
Now a partner with the world's top brands in UAVs, power tools, jump starters, wearable devices and headset brands, Grepow Battery Ltd. has its own well-known battery sub-brands GensAce and TATTU.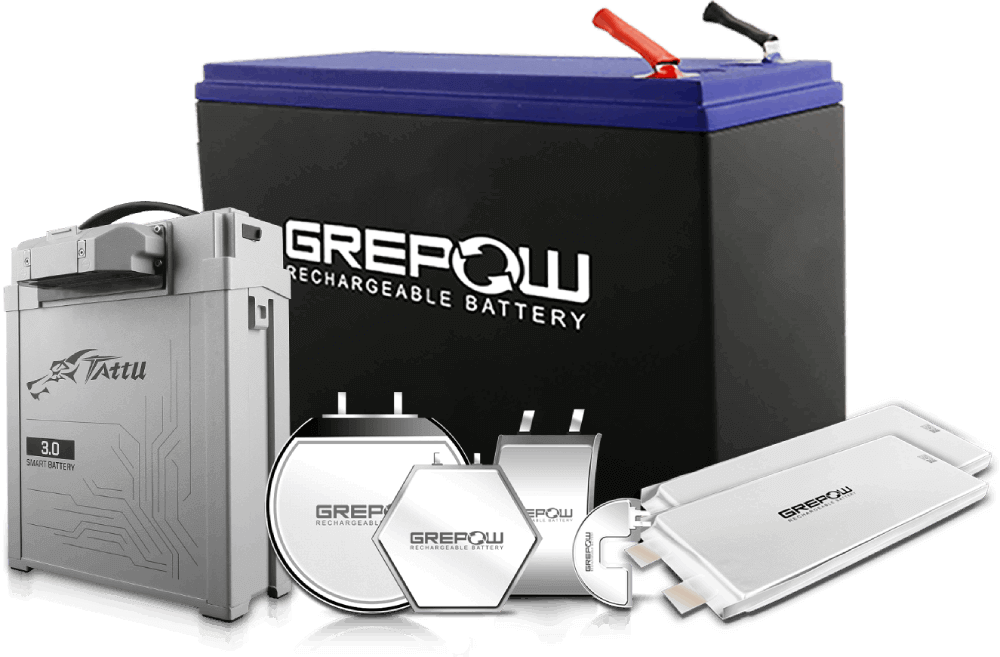 The company is devoted to providing a fully integrated and one-stop battery solution to power a wide range of electronics. Their special-shaped batteries, proven to deliver good durability and reliability, are designed in a variety of shapes and thickness according to the size, weight, and unique shape of their clients' products.
More information about Grepow can be found at https://www.grepow.com/
For more information:
Grepow Battery Ltd.
Email: info@grepow.com
China HQ: +86-755-88376378
USA branch: +1-925-364-7166
Germany branch: +49-(0)218-25700755
EnergySquare
Email: contact@energysquare.co
Related Articles
Related products
Comment(0)
Comment( Your email address will not be disclosed. Required fields are marked as * )