Li-Ion Button Cell Features:
●Self-developed Innovation Patents

42 patents

●High Energy Density

specific energy density up to 470Wh/L

●Excellent Fast Charging Capability

Support 5C Speed charging, shorten charging time


●Long Cycle Life


 Up to 800+ cycles


●Support Customization

Diameter (≥8mm), height (≥2.4mm); and shapes custom available

●Wide Temperature Range

Can be used at -50 ℃~50 ℃ or -20 ℃~80 ℃

●Support High Current Discharge

20C discharge rate

●High Safety Level

Conform to UN38.3, IEC62133 and other certifications
GRP1054G1 Li-ion Coin Cell General Parameters

Chemistry: LiCoO2

Nominal Voltage: 3.85V

Nominal Capacity: 50mAh

Size (mm):                    10(Diameter)*5.4 (without Tags)

Internal Impedance: ≤ 260 mΩ

Full Charged Voltage: 4.40V

Normal Charging Current: 25mA/0.5C /3h

Max Charging Current: 250mA/5C/0.7hr

Support Charging: 5C

Charging Temperature: 0 to +45℃

Discharge Cut-off Voltage: 3.0V

Max Discharging Current: 100mAh/2C (Continuous)

Discharge Peak Current: 250mAh/5C

Discharge Temperature: -20 to +60℃

Weight: 1.30±0.15g

Storage Temperature: -20℃~20℃ (Less than 12 month)

Cell Pack: Yes

Customize Shape: Yes


Why Choose GRP1054G1 Li-ion Button Cell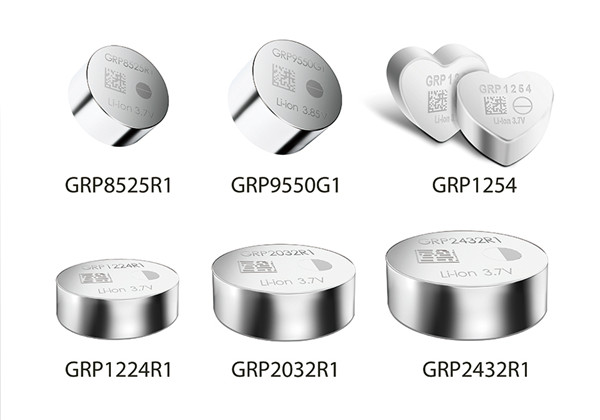 GRP1054G1 lithium ion button battery adopts the laminated (stacking) production process, compared with the traditional coiling process button battery, the laminated process button battery products have the advantages of low internal resistance, good multiplier performance, high discharge platform voltage, long battery cycle life, etc. At the same time, the battery thickness and shape adaptability is stronger, and the application scene is more extensive!
▶Grepow stacking lithium-ion button cell has been recognized by the national invention patent
▶We have 42 patents for self-research and innovation, which are protected by patent law for customers
▶Strict quality control
▶Providing local instant customer support in China, USA and Germany

You can get the following services
● Flexible support for customized solutions (including assembly solutions )
● Reliable and stable performance
● Samples and mass production available
● OEM, ODM services available
GRP1054G1 Lithium Ion Button Cell Application
Grepow button batteries are used in wearable devices, portable medical devices, Internet of Things, smart home, automobiles, TWS earbuds, etc. We can also customize rechargeable coin cell batteries according to customer needs, including the diameter, thickness, shape, capacity, voltage, etc. Coin cell batteries can make full use of the internal space of the device to provide greater capacity and longer endurance, and Grepow R&D team works closely with customers closely to provide the best power solution for their products.

Inquiry
01

Evaluation
02

Specification & Verification
03

Quotation
04

Sample Production
05

Price Verification
06

Production Schedule
07

Shipment
08