What are the best battery for overnight camping?
Editorial:
Issue Date:2020-03-06
Views:804
Just because you're off-grid and camping doesn't mean you can't be connected to electricity.  A portable power source, or a portable battery, will enable you to charge your devices and use electrical supplies while on your outdoor adventures.  In this article, we will explore the best batteries that you can choose for your camping trips.
Camping on the Rise
A big percent of US households go camping on an annual basis.  You may have made time yourself over the weekend or taken time off from work to go camping.  You may have done so for a variety of reasons, but, for many, it becomes a time to relax and escape from the daily hubbub of life. Seeing how the percentage of US households who camp multiple times per year has increased (see graph below), it is clear that camping has grown in popularity.  More and more families are going outdoors for its many benefits. [caption id="attachment_2398" align="aligncenter" width="480"]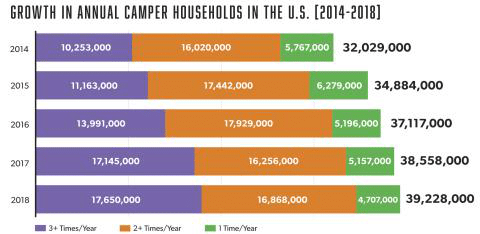 The percentage of campers who camp three or more times each year has increased by 72% since 2014 according to the 2019 North American Camping Report, sponsored by Kampgrounds of America. (Graphic: Business Wire)[/caption] With the increase in camping comes an increase in a variety of types of camping.  The more traditional camping methods are by tent, RV, van, or backpack, but there's even glamping (a more "luxurious" way to camp) and rooftop (popping up a tent on top of your vehicle) just to name a few. Regardless of how you choose to camp, don't forget to pack your essentials:
Food and water (or a water filter if you have an open water supply)
Protection against the elements: light jacket, sleeping bag, tent, etc.
Lighting
Self-defense tools, medical supplies, compass, map, etc.
Portable stove for cooking
Power generator or extra batteries
Choose the right battery
A perfect portable battery would be one that is small, lightweight, comparable in price, and high in capacity.  Outside of this, you should choose a battery that can power your device for at least a whole day or even a few days. The best way for you to choose how much power you need is to check the battery voltage, capacity, and number of outlets that are required from your electrical appliances. For example, if I were to bring an electrical kettle to my camping trip, I would need to make sure that my power supply could support the power needed to boil water.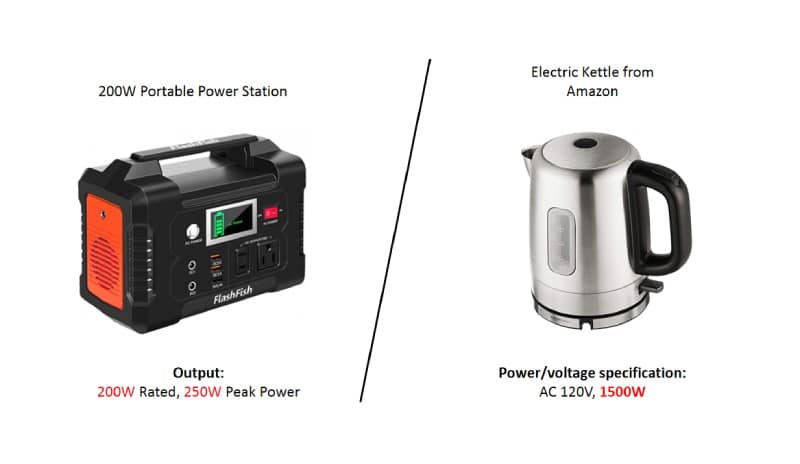 Let us take a kettle from Amazon for example: it requires 120V and an output of 1500 Watts.  Let us also take a portable power station that can output 110 to 120V and a maximum of 150W.  Even though the battery voltage is sufficient, the power output is not.  Since the battery power is insufficient, the electrical kettle will not work properly. You don't want to be stranded outdoors without properly working supplies at your hand.
What battery type do I choose?
There are so many different types of batteries out there.  The most commonly known ones are the AA batteries that can easily be bought at your neighborhood store, but there are also portable batteries that you can purchase online.  People even DIY their own portable power sources.  But what is the best battery for camping? RV enthusiasts know of Lead-Acid batteries.  These batteries are great power sources for RVs because of their low-temperature resistance and price. For other camping enthusiasts, however, Lead-Acid batteries are too heavy in weight, so the LiFePO4 (Lithium Iron Phosphate) batteries are a great place to start.  Although they are more expensive, LiFePO4 can be half the weight of their Lead-Acid counterparts.  They can also be 100% deep-discharged, and they have a cycle life of more than 2,000 cycles.  These batteries also do not require frequent maintenance and replacement of materials, and they are more eco-friendly. Due to these numerous benefits,
LiFePO4 batteries
are the recommended portable batteries for camping.
Recommended Lithium-Ion Batteries
Jackery's Portable Power Station: Explorer 240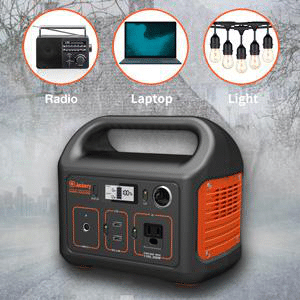 240 watt-hour (16.8Ah, 14.4V) lithium-ion battery pack
Rated Power: 200W
Surge Power: 400W
AC OUTLET: 1X (Pure Sine Wave)
Ports: 1x Car Port, 2x USB-A Port
Recharging Ways: AC, Car Port, Solar Panel
Weight: 6.6 lbs
FlashFish's 200W Portable Power Station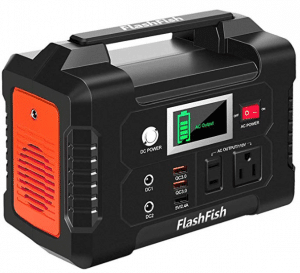 Capacity: 151Wh
DC Input: 15V/2.5A
AC Output: 200W Rated,250W Peak Power
DC Outputs: 9~12V/ 10A (Max)
USB Outputs(3): 2*QC 3.0, 1*Auto 5V/ 2.4A
Weight: 5.6lb (2.55kg)
Dimensions:8.2x4.3x6.2in(208x110x158mm)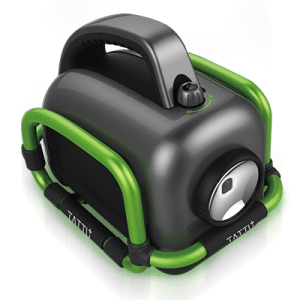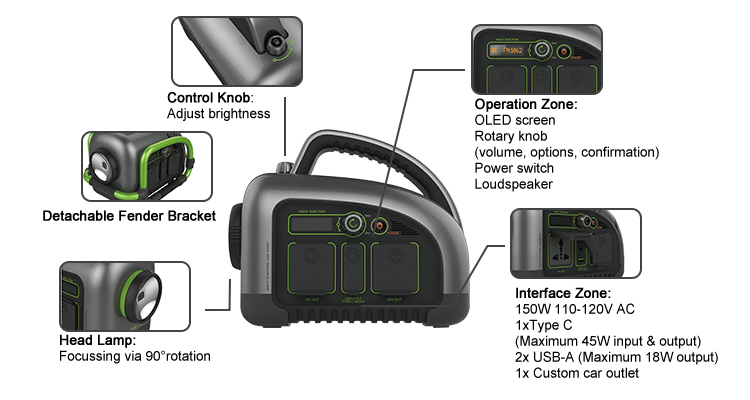 Battery Capacity: 12.8V 8Ah LiFePO4
Input Port: 1x Type-C (Max 45W, 5V/3A;9V/3A;12V/3A;15V/3A;20V/2.25A)
Output Ports:

1x Type-C (Same as input port, support PD, QC2.0/3.0)
2x USB-A ports (Max 18W, QC2.0/3.0)
1x Custom 12V Car Outlet supports 3 modes (12V/15A;12V/100A;12V/700A;)
1x AC 110V-120V, Max 150W

Battery Management System: Over Voltage Protection; Over Current Protection; Short Circuit Protection
Operating Temperature: -4-140F (-20-60℃)
Weight: 6.39lbs (2.9kg)
Size: 9.05" x 5.04" x 8.11" (230mm x 128mm x206mm)
No matter you are camping or RV camping, it is best to choose batteries according to your own needs. We hope that everyone will have a good memory when camping.
The article comes from  https://www.bestpowerstation.com/
Learn more about batteries
Keep an eye out on Grepow's official blog, where we regularly update industry-related articles to keep you up-to-date on the battery industry. Grepow website: 
https://www.grepow.com/
Grepow Blog: 
https://blog.grepow.com/
Related Articles
Related products
Comment(0)
Comment( Your email address will not be disclosed. Required fields are marked as * )