Special Shaped Battery Perfectly Combination with Smart Wearable Devices
Editorial:Mike
Issue Date:2019-12-02
Views:1435
Since there is great popularity among the wearable market, it requires a high-performance battery.
Smart Wearables
Smart wearables are items that we wear every day, such as smart helmets, smartwatches, smart rings, smart belts, smart insoles, belts, etc, which are able to design with intelligent electronics and give advice and recommendations with quantitative analysis of data.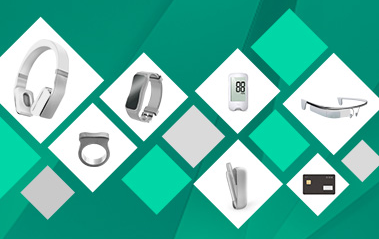 Nowadays, there are more and more types of wearable devices, expanding into more fields, such as Child safety tracking bracelet, smart clothes, smart shoes, special warm vest for the olds. Or there are some wearable devices that require exercise to monitor physiological information during exercise, such as Sports watch, smart bracelet. What is more, Many products are developed with the latest technology.

Wearable Market Reflects Strong Growth
The wearable market has developed rapidly in recent years and has a bright future because it meets the young people's pursuit of cool and individualistic psychology.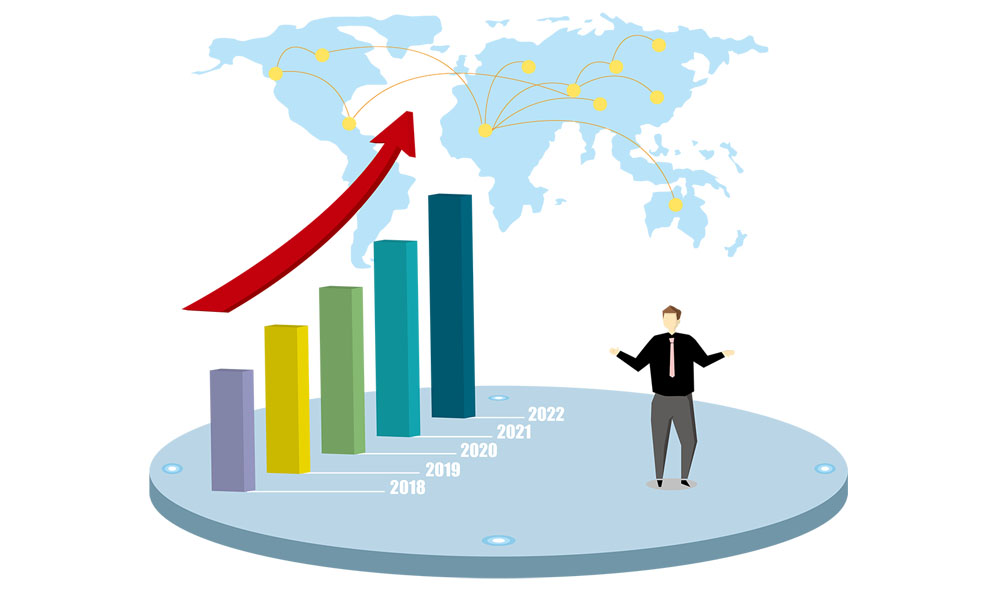 Data show that in the first quarter of 2018, global wearable device shipments were 25.1 million units, an increase of 1.2% year-on-year. Among them, from Apple, Fitbit and many brands, the smart, more expensive smart wearable devices increased by 28.4%. And Watches and bracelets accounted for 95% of global wearable device shipments in the first quarter. Total shipments of wearable devices worldwide reached 124.9 million units in 2018, up 8.2% year-on-year. And with the maturity of wearable technology and continuously expanding of application, global wearable device shipments are expected to reach 199.8 million units by 2020.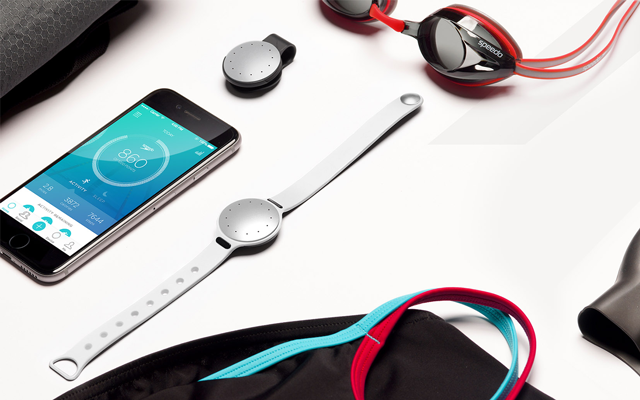 However, the market has great demands on batteries of wearable devices, compared to the wearable device For wearable device manufacturers, It is urgent to provide efficient wearable batteries; from the perspective of wearable device designers, they are also looking forward to having high-quality batteries, because only in this way can they attract more consumers.

Grepow Wearable Battery Solution
At present, Grepow novel special battery focuses on the wearable battery solution, which has the advantages of high energy density, high working voltage, wide temperature range, low self-discharge rate, long cycle life and no pollution, which meets the requirements of smart wearable device batteries. With those advantages, it is widely used in smart bracelets, smartwatches, and medical devices. The products are highly recognized by many domestic and foreign manufacturers, monthly shipments are above the millions.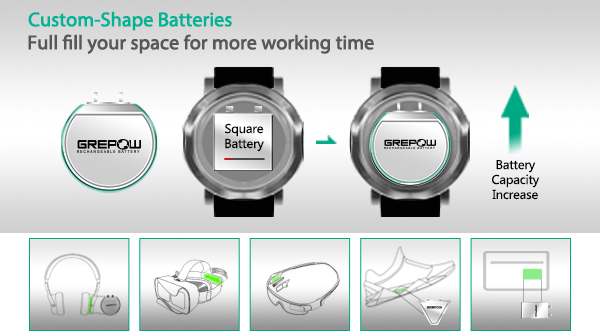 Compared with nickel-chromium batteries, Grepow wearable lithium-special batteries occupy a great share of the market.Grepow special batteries are very popular because they maximize the usage of the internal space of devices, with the high power density and customized shapes under the demands from customers, round, curved, ultra-thin, and etc. Every shape is possible. Moreover, they are so small and exquisite that they can even fit into your pocket.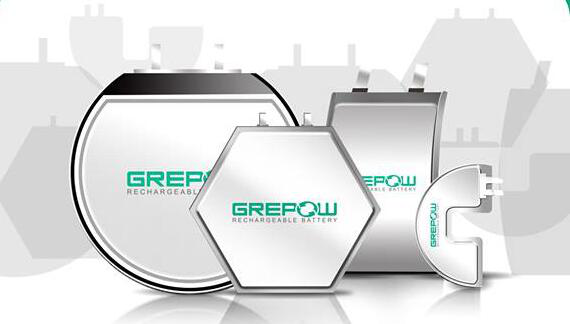 The shape batteries can be used at temperature -40 ℃~50 ℃ or 20 ℃~80 ℃. If you need anything different from this range, just send Grepow more details for evaluation. High performance of discharge at low-temperature, the lowest one is able to discharge over 60% efficiency @0.2C at -40℃, and discharge over 80% efficiency @0.2C at 30℃.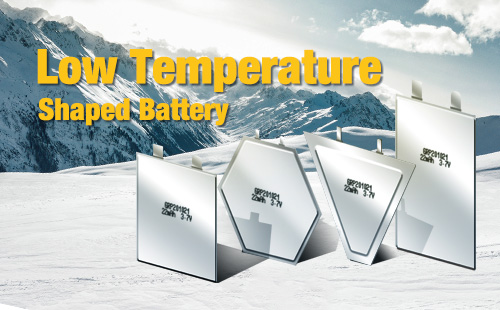 Meanwhile, Grepow special batteries for wearable devices are not only able to achieve fast charging and discharging, but also mass produces high-voltage batteries of 3.7V, 3.8v, and 3.85v, whose quality is superior to similar products in terms of product quality. High discharge rate technology and fast charging feature reduce the time between use and make your product competitive with competitors.

Grepow special batteries Advantages
The Grepow special battery is very small and light. It requires minimal maintenance and is very low cost. Safe and environmentally friendly, all batteries meet the requirements of ROHS, CE, UL, UN38. 3, MSDS and other certifications. It has little damage to the environment, and the battery is durable and has a long life, after 1000 cycles, the capacity maintained over 80%.

The fact reveals that Grepow special batteries meet the requirement for the fast development of wearable devices nowadays.

It is Important to Make Best Use of Battery
First of all, charging the battery unit it is filled to store more power as much as possible. The development of wearable devices must appear to be miniaturized invisible, which means the size of the battery is definitely limited. We need to charge the most energy into the battery in a limited volume, that is charging the battery unit it is filled.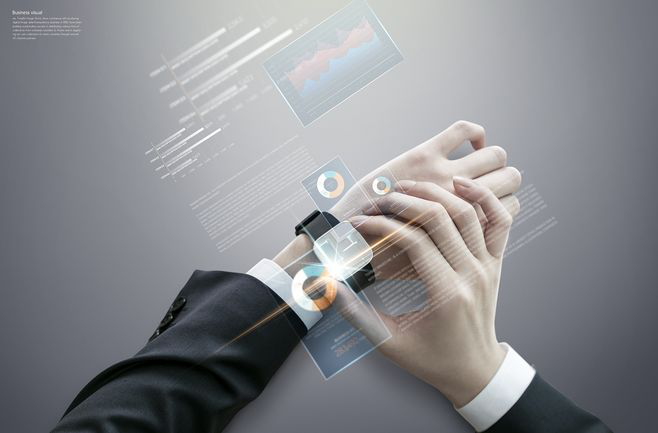 Then, releasing the energy of the battery efficiently as much as possible. Since the voltage needs to be converted in the middle, the battery power can rarely be directly used by external devices. At this time, it is necessary to increase the conversion efficiency and deliver as much battery energy as possible to the powered device instead of self-discharge.

The Future of Smart Wearable Batteries
The number of wearable devices is expected to grow explosively in the future, which means a smaller battery with long life will increase dramatically. Grepow predicts that the more intelligent the equipment, the higher the pursuit of energy efficiency.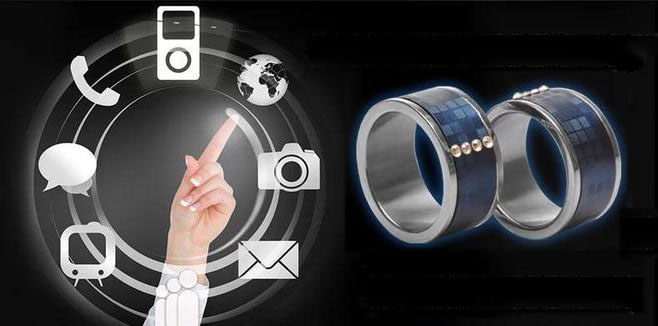 According to the current use of various wearable devices on the market, it can be showed that the quality of various batteries is similar, possessing own advantages and disadvantages. However, scientists and professionals are working hard to improve battery capacity and further reduce battery damage to the environment. We look forward to a boom in the wearable industry with high-efficiency batteries! If you are interested in our products, please don't hesitate to contact us at any time! Email: info@grepow.com Grepow Website: https://www.grepow.com/

Related Articles
Related products
Comment(0)
Comment( Your email address will not be disclosed. Required fields are marked as * )