Power Upgrade! Gens ace announces the new smart charger - Imars Dual
Editorial:Danae
Issue Date:2022-05-20
Views:3280
Imars Dual Channel AC 200W / DC 300W Balance Charger is a fantastic charger with all of the desired features at a price that cant's be ignored! More charging and discharging power at a good price. This great design has been made even better, because it was multiplied by 2x. That's right, all the great features times 2. With the flexibility of AC or DC input power, there is no more limit to where and when this charger can be used. It is friendly for RC Hobby. Using the included internal AC power supply offers 200 watts or up to 15 Amps of charging current for a 2s or 3s pack! With an external DC power supply or a large battery it is possible to charge at up to 600watts total or 300watts per channel.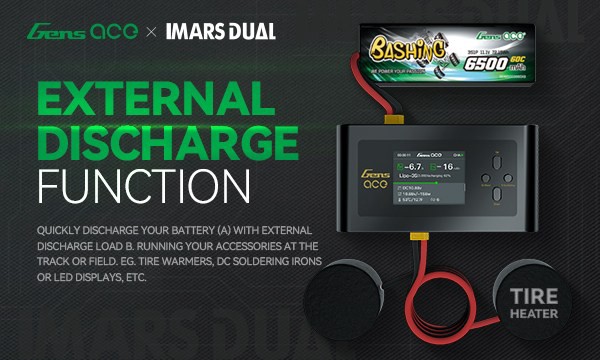 Gens ace Imars Dual Smart Charger with External Discharg Function
Imars Dual offers excellent charging power but it also has the ability to harness an external resistance load for high amperage discharging. This allows discharging of up to 15 Amps. Now putting batteries into storage mode is a snap! Features? There are still more. For larger size batteries all that is needed is a good DC power supply and SYNC charge mode can be used. SYNC charge combines the output of both channels of the charger into one big high power CHARGING MONSTER! Larger batteries can be charged quickly using SYNC charge mode.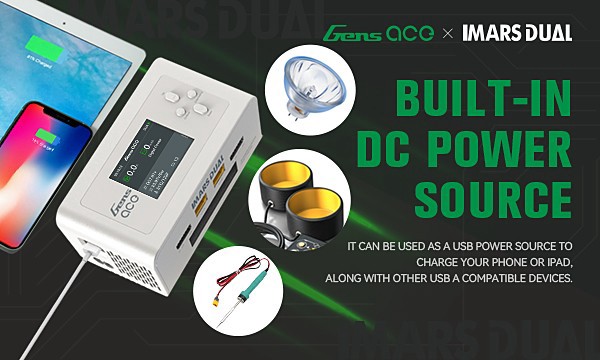 Gens ace Imars Dual Smart Charger with USB
The Imars Dual has a built in DC power supply for running your accessories at the track or field. With a range of 5V DC to 29V DC and up to 15 Amps of current available things like tire warmers, DC soldering irons or LED displays or whatever use that can be imagined for a portable DC power source.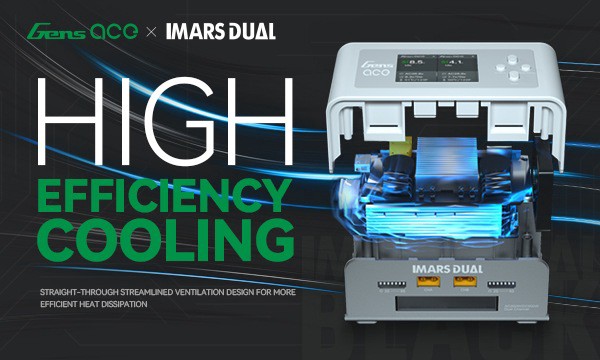 Gens ace Imars Dual Smart Charger with COOLING FUNCTION
The Imars Dual is a true multi chemistry battery charger. Imars Dual supports chemistries such as LiPo, LiHV (High Voltage LiPo), LiFePO41 to 6s packs and NiMh 1-16S packs.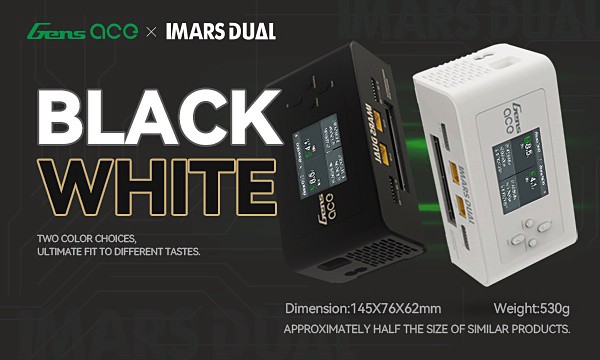 Gens ace Imars Dual Smart Chargers - BLACK / WHITE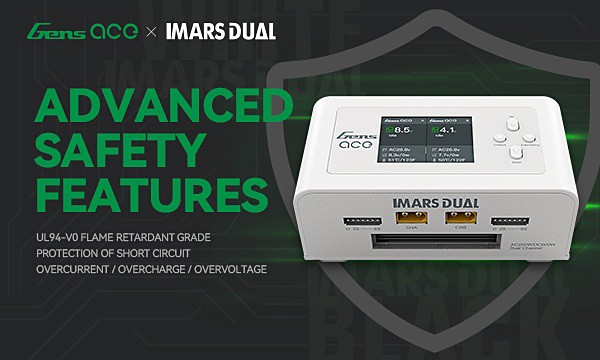 Gens ace Imars Dual Smart Charger - ADVANCED SAFETY FEATURES

The sleek compact design has beautiful contours. Not only that but it is offered in Black or White colors for the ultimate fit to your taste. It looks great no matter where it is found and used! Rest assured people will notice the Imars Dual. Imars Dual supports multiple languages so choose the language that is most comfortable. Different style connectors? Do not worry, the Imars Dual covers that too, with the included EC5, EC3 Deans and built in XT60 connector for each channel.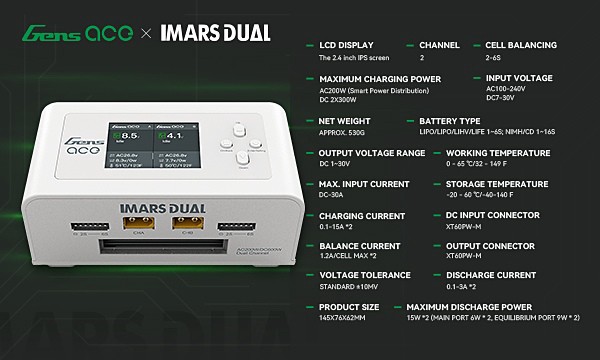 Gens ace Imars Dual Smart Charger - PARAMETER DATA
The charger components come from Grepow Factory. Grepow not only provides battery and charger customization, but also provides a complete solution of battery, BMS and charger power systems.
Any questions, please feel free to contact us at info@grepow.com. There are USA / EU / UK Versions for you to choose from.
US Web: https://www.genstattu.com/imars-dual-charger/
EU Web: https://www.gensace.de/imars-dual-charger
Article from Gens ace: Power Upgrade! Gens ace announces the new smart charger – Imars Dual
Related Articles
Related products
Comment(0)
Comment( Your email address will not be disclosed. Required fields are marked as * )