The agricultural market has rapidly expanded the use of VTOL vehicles for mapping and inspection, providing the ability to survey large areas quicker and safer than ever before. An agricultural drone was a novelty just a few years ago, today an essential piece of equipment. However, being able to rapidly survey significant areas of land does mean that high-capacity batteries are an important part of agricultural drone use too.
As imaging technology improves, VTOL drone aircraft are more frequently deployed, expected to cover larger and larger areas as farmers seek the most efficient use of land possible. That need to cover even greater areas means staying in the air for longer and having a faster turnaround on downtime. The key to that is improved battery technology, and the advent of a drone smart battery, that uses technology to manage power more effectively, has been key in the development of the agricultural drone. A UAV smart battery is able to expend power for longer flights, but also offers improved recharging, both in the time taken and the efficiency of that recharging.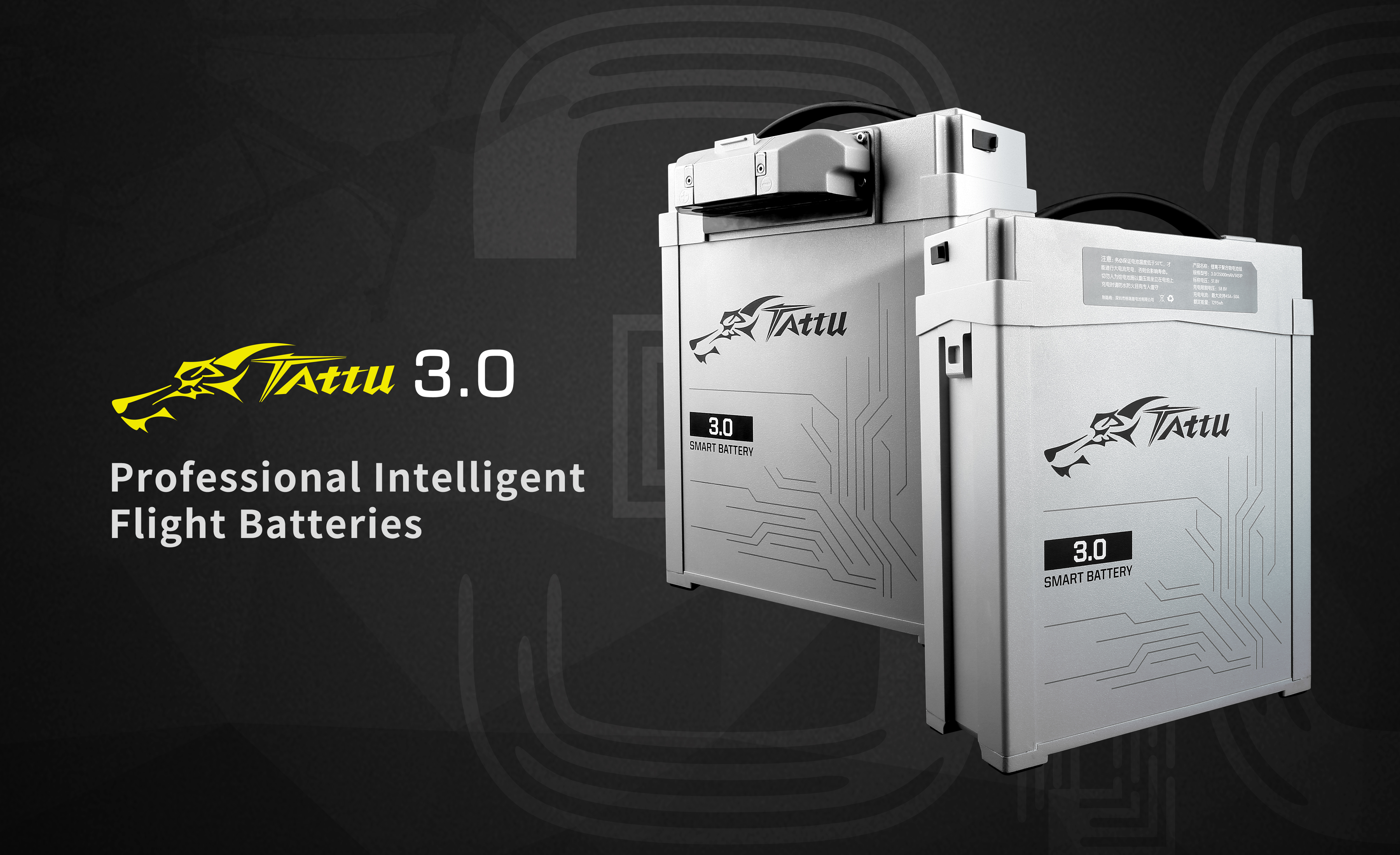 Tattu 3.0 is the latest smart drone battery on the market, offering significant advantages and value, while also adding to the usability of the equipment for extended mapping and inspection operations. It has a unique design, with a full aluminum housing for effective heat dissipation, aiding both performance and efficiency, along with a smart external anti-spark device for safety. The entire Tattu 3.0 drone smart battery is sealed waterproof and easy to use. It has a portable smart checker, a sliding design, LED charge and status indicator.
Available in 19,000, 22,000 and 25,000 mAh capacities, Tattu 3.0 is ready for any survey duty as well as other challenging applications. All versions providing the high-capacity performance that modern agriculture needs, and which is best depends on the unique needs of each pilot.
Whichever capacity is chosen, Tattu 3.0 features 14 cells connected in series, all protected by the shockproof housing that separates cells from each other and the sealed housing, extending battery life and reducing maintenance.
With a choice of connectors, this is a flexible battery solution built to fit into your existing system, including:
XT90-S
AS150
XT150
TA1200
AS150U-F
XT60
EC5
XT90I
ANDERSON175
3.0
QS8
Designed for harsh environments
A high-capacity drone smart battery needs excellent performance, which Tattu 3.0 has, but it also needs to be ready for life out in the field. An agricultural drone is not operated in lab conditions, with wind and rain, mud, water, high temperatures, low temperatures and more all part of daily life for operators when they survey areas of land. The aluminum housing of this UAV smart battery is designed to fully protect the cells and smart technology.
With the aluminum housing sealed against dust and water, the Tattu 3.0 meets high levels of IP protection required for some applications and environments, ensuring they are the flexible solution that copes with most agricultural drone needs. The included shock protection can help alleviate issues with bad landings or unforeseen collisions and other issues, creating a drone battery that is built to cope with the real-world conditions it will be used in.
Reliable, effective power whenever you need it, whatever the conditions, is the hallmark of Tattu 3.0, bit just a great UAV smart battery, but a power solution built to keep business operating.
The battery features an advanced BMS built around an industrial grade ARM 32-bit processor providing security protection, data statistics and intelligent power management. With this dedicated management solution, the Tattu 3.0 is a true smart battery that is built to deliver optimal performance and extended life for cost-effective power in your critical applications.
The system covers every aspect of battery activity, including:
Overcurrent warning and protection
Over-discharged and overcharged warning and protection
Low and high temperature management
Smart self-balancing during charge and discharge
Smart voltage management
Short circuit protection
Smart self-heating for optimal performance in all conditions
Bluetooth connectivity
Cloud Management
UAVCAN protocol compliant
Lifespan indication
The BMS is built using dependable, hard wearing components that are built to withstand the challenging environments a drone smart battery must cope with. In managing the cell capacity, voltage and IR, it gives operators peace of mind during use and improved value from each battery through extended lifecycles.
A UAV Drone Battery designed for you
GREPOW is able to provide the Tattu 3.0 range of batteries within our custom drone battery service. This includes structure design, custom BMS programming to meet your precise needs, OEM and ODM solutions for your brand including a complete battery solution for a specific product or application.
High-capacity agricultural drone batteries are essential in maintaining effective operations for drones today, having a custom battery for a specific need maximizes the performance and minimizes maintenance problems. Our cost-effective approach delivers the perfect solution whatever your battery needs.
Tattu 3.0, the versatile IAV smart battery for every situation
Ideal for taking on the challenges of modern agriculture, the smart technology driving the battery makes it an extremely flexible power solution that is useful across a range of applications. As a drone smart battery, the most common of those is powering VTOL agricultural drone systems for mapping and inspection of water levels, plant growth and so on. This allows for rapid survey processes for large areas to ascertain soil condition, crop contaminations and other tasks that can be accomplished from the air.
However, with the high-definition survey capabilities available today, drones are used for building maintenance too, able to view roofing and other structural components of towers and industrial buildings without the need for laddering or scaffold. This reduces costs but also improves safety, and it is another area where a high-capacity smart battery is essential. With these batteries, large installations and production facilities can be inspected by a small team quickly, instead of a manual inspection that can often take weeks to accomplish on large sites. The longer the drone is in the air, the quicker the inspection can be carried out.
Tattu 3.0 is ready to power modern agriculture and other industries, built to deliver reliable, efficient performance even in harsh conditions. A complete drone smart battery solution that delivers reliable, powerful performance and safe, effective operation at all times.
If you're interested in Tattu 3.0 or have any questions about UAV batteries, please feel free to contact us by email at info@grepow.com. For more Tattu UAV battery, please click page: https://www.grepow.com/page/uav-battery.html