Shenzhen, China – June 17, 2020 - Shenzhen Grepow Battery Co., Ltd. (Grepow), the world leading battery design and customization company, today announced a partnership with the world's top wireless charging 2.0 technology company Energous Corporation (Nasdaq: WATT), developer of WattUp® wireless charging technology. Grepow and Energous are working together to develop batteries that are wirelessly charged via WattUp, a radio frequency (RF) based charging technology, for use in electronic devices in the commercial, industrial and medical industries.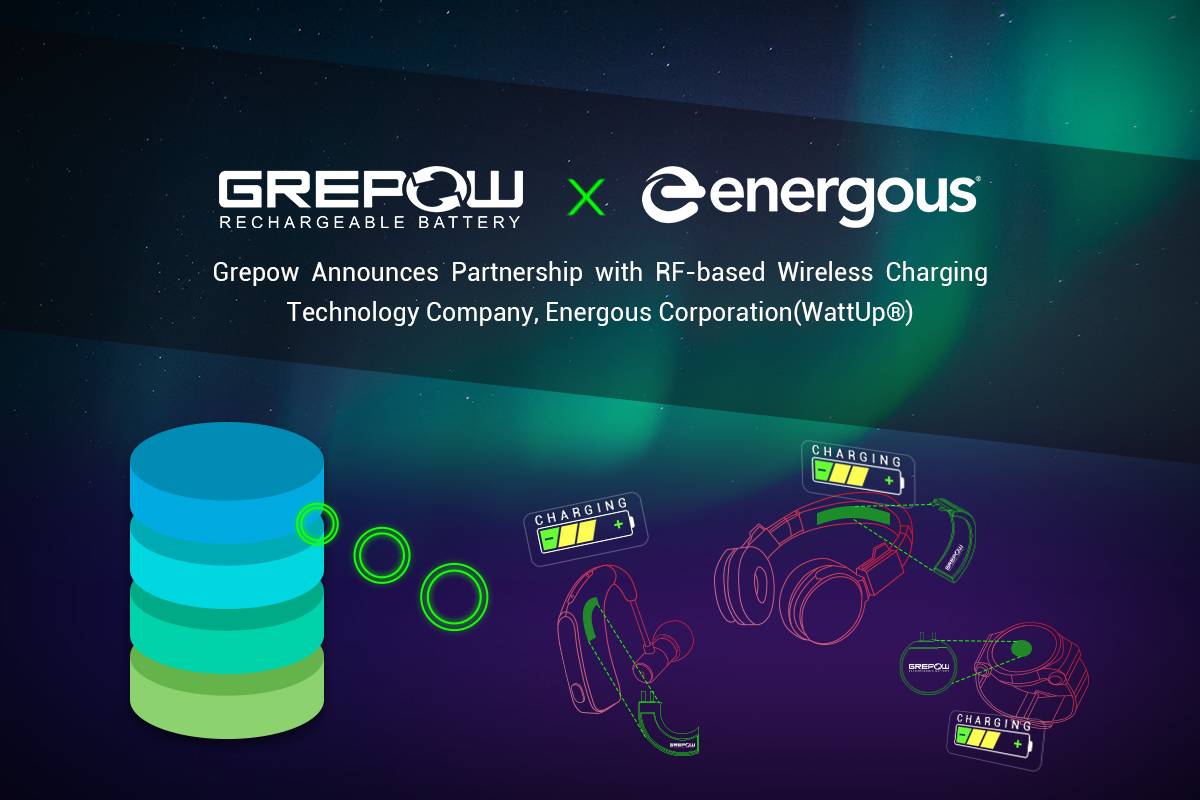 "Compared with traditional charging technology, wireless charging will be the mainstream in the wearable consumer electronics, medical and automotive industries in the future." said Peter Liu, CEO of Grepow Ltd.
Peter pointed out that next-generation wireless charging technology should have the following characteristics: over-distance transmission, multiple loads, and dynamic charging, which will bring better user experience to our customers. With wireless charging, many devices like TWS headsets don't require a specific charging device. Especially for current wearable devices, wireless charging technology can make the device completely waterproof. Meanwhile, In the limited internal structure, it can perfectly replace the charging connector of the drive, which can release more space and accommodate larger sizes to increase the battery capacity.
The biggest similarity between Energous' technology and Grepow's special-shaped batteries is that both of the products are able to be customized into different shapes. We believe that it will have more requirements for product size and internal structure. And the ability to produce different shapes of batteries is demanding.
"We are excited to collaborate with one of the world's leading Chinese battery manufacturers on next generation batteries that we believe will be tremendously beneficial to their broad range of customers," said Stephen R. Rizzone, president and CEO of Energous Corporation. "Grepow has a strong footprint in the commercial, medical and industrial applications and our technology is well-suited to meet the needs of their customer applications within each of these very different markets."
About Energous Corporation
Energous Corporation is leading the next generation of wireless charging – wireless charging 2.0 – with its award-winning WattUp? technology, which supports fast, efficient contact-based charging, as well as charging at a distance. WattUp is a scalable, RF-based wireless charging technology that offers substantial improvements in contact-based charging efficiency, foreign object detection, orientation freedom and thermal performance compared to older, coil-based charging technologies. The technology can be designed into many different sized electronic devices for the home and office, as well as the medical, industrial, retail and automotive industries, and it ensures interoperability across products. Energous develops silicon-based wireless power transfer (WPT) technologies and customizable reference designs. These include innovative silicon chips, antennas and software, for a large variety of applications, such as smartphones, fitness trackers, hearables, medical sensors and more. Energous received the world's first FCC Part 18 certification for at-a-distance wireless charging, and the company has 223 awarded patents for its WattUp wireless charging technology to-date.
For more information, please visit energous.com
About Grepow
Grepow Battery Ltd., founded in 1998, is a world-leading battery company and manufacturer that specializes in LiPo, LiFePO4 and NiMH batteries. They have advanced technology on a wide number of fields, such as wearable devices, industrial applications, and drones. They customize batteries for their customers' needs with any shape, and they've manufactured batteries with high discharge rate and low-temperature resistance.
Grepow currently has 5 branches in China and two international branches in Dublin, USA and Korschenbroich, Germany. There are a total of 4 factories, covering an area of 15.2 hectares and roughly 3,000 employees, 200 of them in R&D department.
Grepow is now a partner with the world's top brands in the medical field, wristband and headset technology, and sports brands. They are devoted to providing a fully integrated and one-stop battery solution to power a wide range of electronics. Their special-shaped batteries, proven to deliver good durability and reliability, are designed in a variety of shapes and thickness according to the size, weight, and unique shape of the customers' products.
More information about Grepow can be found at https://www.grepow.com/
Safe Harbor Statement
This press release contains forward-looking statements that describe our future plans and expectations. These statements generally use terms such as "believe," "expect," "may," "will," "should," "could," "seek," "intend," "plan," "estimate," "anticipate" or similar terms. Examples of our forward-looking statements in this release include our statements about technology developments, partner product development and wireless charging innovation. Our forward-
looking statements speak only as of this date; they are based on current expectations and we undertake no duty to update them.
For more information:
Grepow official:
Email: info@grepow.com
China (Headquarters): +86-755-88376378
USA branch: +1-925-364-7166
Germarny branch: +49-(0)218-25700755
Energous Public Relations
Email: PR@energous.com
Tel: (408) 963-0200
Official website: energous.com