GREPOW is a high-technology lithium-polymer battery specialist who is capable of providing fully integrated battery solutions to power wide range of electronics equipment. When the dimension and weight of electronics is critical, GREPOW's special shape batteries are proven to deliver good durability and reliability, outstanding performance and long cycle life for fast-growing smart, mobile and wearable electronics.
Specifications: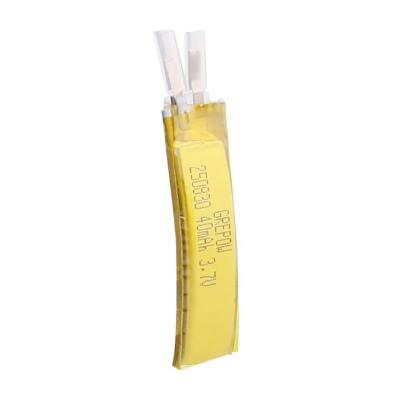 - Model Number: GRP2508030
- Minimum Capacity: 40mAh
- Configuration: 1S1P / 3.7 V / 1 cell
- Discharge Rate: 1C
- Net Weight(±0.5g): 1.0g
- Dimensions: 29.2mm x 8.1mm x 2.55mm (L x W x H)
- Flexible size design subject to different space of application
- Thousands of models for micro size with 10mAh-1000mAh
Applications:
Smartwatch
In order to maximize the usage of internal space and battery's capacity. Round sharped batteries are most suitable for round shaped smartwatches. Round or close to round shaped batteries are the best choice for smartwatches currently.
Smart wristband
The use of curved batteries in smart wristbands makes it fit more closely to user's wrist. It provides more comfortable wearing experiences.
Medical Equipments
To meet the various requirements in sizes of medical equipment, customized novel shaped batteries are the most ideal solution. It provides large capacity for a long working hour.
Wireless Headphones
Round or curved novel batteries can make the most use of internal space of Bluetooth headphones. It offers large capacity and longer listening hours for our favorite music.
Various consumer electronics
Customized novel shaped lipo batteries can be made to fit in different designs of consumer electronic devices, such as GPS Navigation and Positioning System, Bluetooth devices headsets keyboards speakers
Our Advantage:
1. Your orders will be dispatched via FedEx
2. Fast shipping and excellent local after-sale service guaranteed in the USA or Europe.
3. Service-priority, like the long warranty period and the lower price for buyers.
4. Energy Density: Very High according to capacity/weight. In fact, we are specialists in High Power Lipo Batteries. It is our unique technology, the highest power of our battery is 100C. Another technology is our batteries are able to be stably discharged simultaneously
5. Low IR: Provides stable voltage until the end of your mission.
6. Safety: GREPOW and its partners fulfill the ISO9001, ISO14001, standards.
7. See more shaped battery instruction to the link: https://www.grepow.com/page/shaped-battery.html
8. See more curved-battery instruction to the link: https://www.grepow.com/page/curved-battery.html