Foldable phones are gaining much attention in the market recently. Just in this year, new patents on foldable phones have come out from Xiaomi and Samsung. Samsung released the Galaxy Fold and Galaxy Z Flip, two different shapes of foldable screen smartphones, each with a dual battery. However, these batteries take up a lot of space, which leaves less room for other components, ultimately limiting the design of the internal components.
A recently published patent suggests that Samsung is working on an innovative solution. Samsung appears to want to use a bendable battery structure. This creates greater assembly freedom and allows for the slender nature of a folded phone to be maintained without compromising the possible implementation of other components.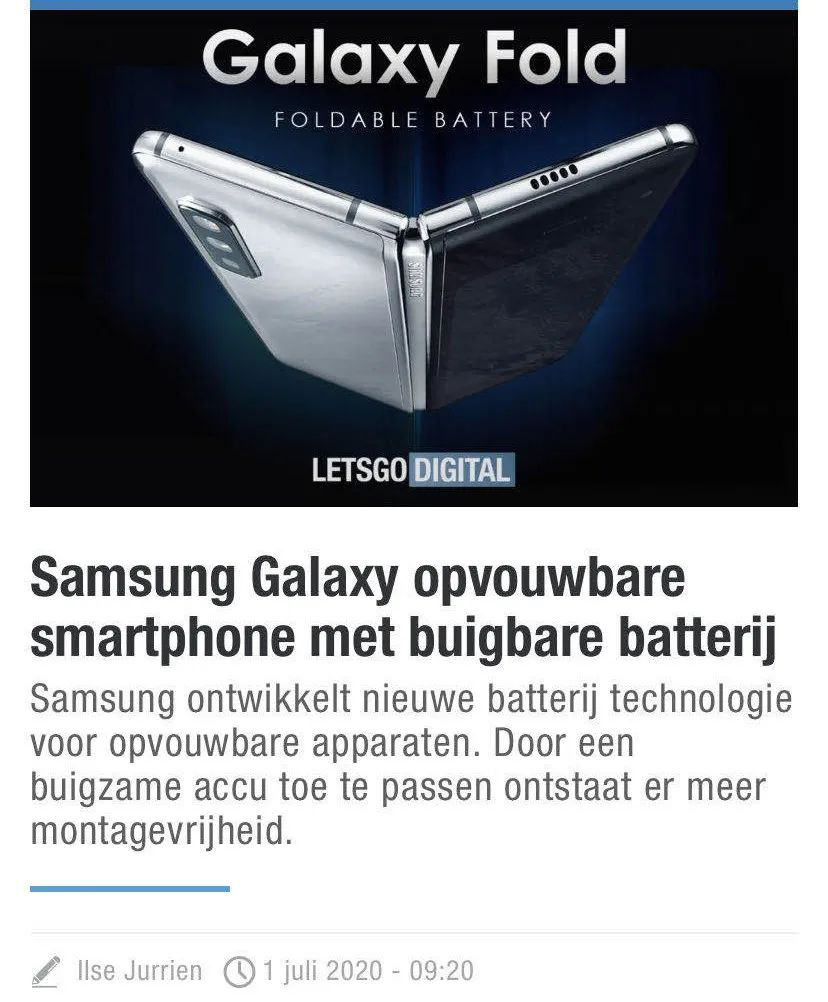 At the end of 2019, Samsung Electronics filed a utility patent for a flexible foldable batteries and electronic device: the patent was published on June 25, 2020. The 56-page document details how the flexible batteries would look and how it could be used in a foldable phone.
The patent defines that the flexible battery pack consists of two parts, one of which is placed in each housing. In the middle, the battery can be bent 180 degrees so that it can be placed around a hinge. In addition, it is possible to alternate positive and negative electrode substrates by stacking multiple battery cells. In the stacked structure, the cohesive layer is removed and different lengths are used, allowing the cells to be more flexible and easily bent to the housing. The cells are connected via conductive cables made of flexible materials or by applying a hybrid layer in the bendable area.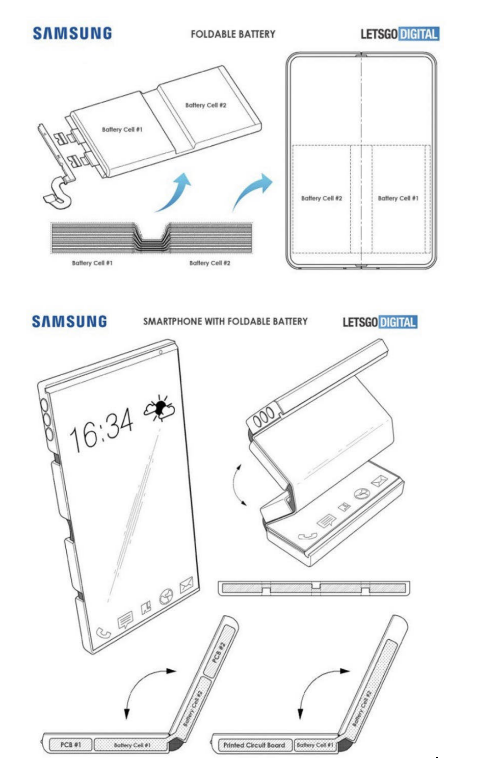 In order to meet the requirements of marketability, foldable phones place higher demands on technicians from flexible folding screens to flexible batteries.
But, of course, Samsung is not the only manufacturer concerned about this important issue.
In September 2019, a group of Swiss researchers from ETH Zurich demonstrated a prototype of a foldable lithium-ion battery using flexible, scalable materials. According to the research team, this is the world's first flexible bendable batteries designed specifically for foldable electronic devices. However, further research is needed to optimize the battery before it can be put into commercial use.
Articles related to flexible batteries:
A Review of Flexible Battery Manufacturers
Flexible Batteries will Change the Future of Smart Devices
A Flexible Battery With a Thickness of Less Than 1 mm has been Developed in Japan
Flexible Paper Battery Offers Future Power
Highly Flexible High-energy Textile Lithium Battery for Wearable Electronics
More about flexible batteries can be found on the page: https://www.grepow.com/page/shaped-battery.html
Contact us at info@grepow.com