New, flexible solar cells that can be deployed in space
Editorial:Eva Wei
Issue Date:2020-09-07
Views:2205
On December 27, 2019, a flexible, solar cell system based on shape memory polymer composites (SMPCs) developed by Professor Leng Jingsong and associates at HIT (Harbin Institute of Technology) successfully flew into space. After having successfully completed key technical tests on January 5, 2020, the research group achieved the first controlled, in-orbit deployment of flexible solar cells of its kind.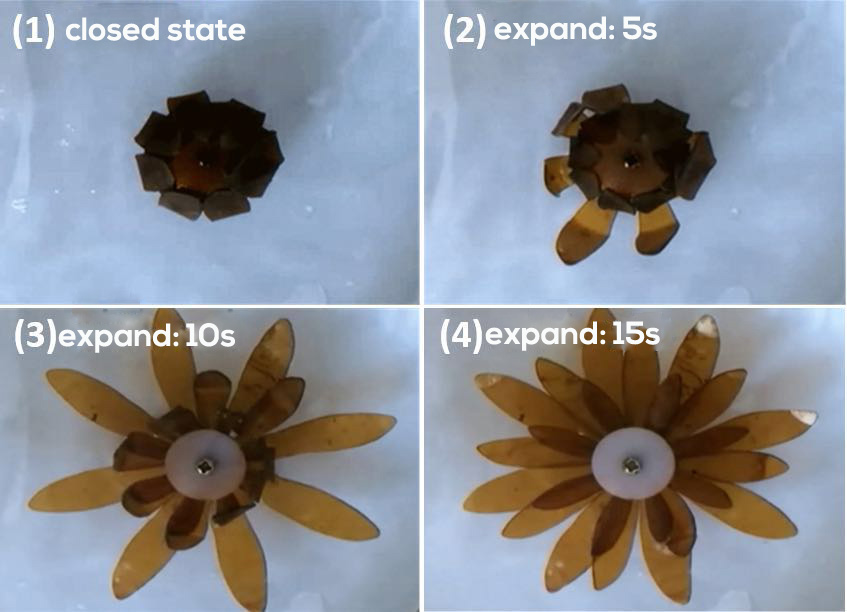 As one of the key components of space vehicles, solar cells usually need to undergo four steps before they can be deployed in orbit: ground fabrication, folding and closing, launch to space and space deployment. Flexible solar cells are particularly on trend for their light weight, good flexibility and high storage ratio.
Based on the theory of composite mechanics and fine structural design, SMPCs can undergo the locking, releasing and unfolding of flexible solar cells, as well as the high rigidity of the unfolded load-bearing functions.
During the satellite launch process, the locking and releasing mechanism of the SMPC can provide high rigidity locking. After entering orbit, it can achieve stable and shock-free unlocking. During the unfolding process, the unfolding of the flexible, thin film solar cell is driven by the controlled extension of the expandable beam of the SMPC. After unfolding, the stiffness of the beam is restored to a level comparable to that of conventional composite structures, and the fundamental frequency of the unfolded beam is higher to provide a highly stiff load-bearing function.

The unfoldable flexible solar cell system can be locked, released and unfolded by the SMPC without the more traditional methods of a pyrotechnic separation device, hinges and motor drive. With a more simple structure, there almost no impact during the unfolding and unlocking process.
Related technologies are expected to be applied to space deployable structures, lock release mechanisms and flexible solar cell systems in different spacecraft platforms, such as deep space exploration, space station, and lunar exploration, which have wide application prospects in aerospace, aviation, automobiles, high-end equipment, intelligent manufacturing, robotics and biomedical fields.
Articles related to flexible batteries:
A Review of Flexible Battery Manufacturers
Flexible Batteries will Change the Future of Smart Devices
A Flexible Battery With a Thickness of Less Than 1 mm has been Developed in Japan
Flexible Paper Battery Offers Future Power
Highly Flexible High-energy Textile Lithium Battery for Wearable Electronics
Flexible Batteries Enable More Space in Foldable Phones
More about flexible batteries can be found on the page: https://www.grepow.com/page/shaped-battery.html
Contact us at info@grepow.com
Related Articles
Related products
Comment(0)
Comment( Your email address will not be disclosed. Required fields are marked as * )