LFP Modular Battery Features

●High power and good cycles performance

●High safety standard

Safety unit with integrated monitoring system provides more safety in use

●Longer working time

●Voltage / capacity scalable

Modular and customized to provide high energy density, saving space and weight

●BMS enables high power discharge with multiple control and protection functions

●Easy to install in series and parallel
24V LiFePO4 50000mAh Modular Battery Specs

| | | | |
| --- | --- | --- | --- |
| Product Name | Grepow 24V LFP 50Ah Modular Battery | Dimensions (L x W x H) | 327 x 172 x 217 mm (Approx.) |
| Cell Chemistry | Lithium Iron Phosphate (LiFePo4/LFP) | Charging Mode | Constant Current and Constant Voltage |
| Cell Type | Pouch cells | Charge Current | 25A (Standard)/50A (Max.) |
| Nominal Voltage | 25.6V | Discharge Current | 10A (Standard); 100A (Max Continued ) |
| Nominal Capacity | 50Ah (50,000mAh) | Operating Temperature | Charge (0~+45℃); Discharge (-20~+60℃) |
| Internal Impedance | ≤17mΩ | Power Connector | M8 |
| Discharge cut-off voltage |  17.6±0.4V | Enclosure Protection | IP66 |
| Nominal Weight | 15 KG (Approx.) | Case Material | ABS |
Why Choose Grepow 24V 50Ah LFP Modular Battery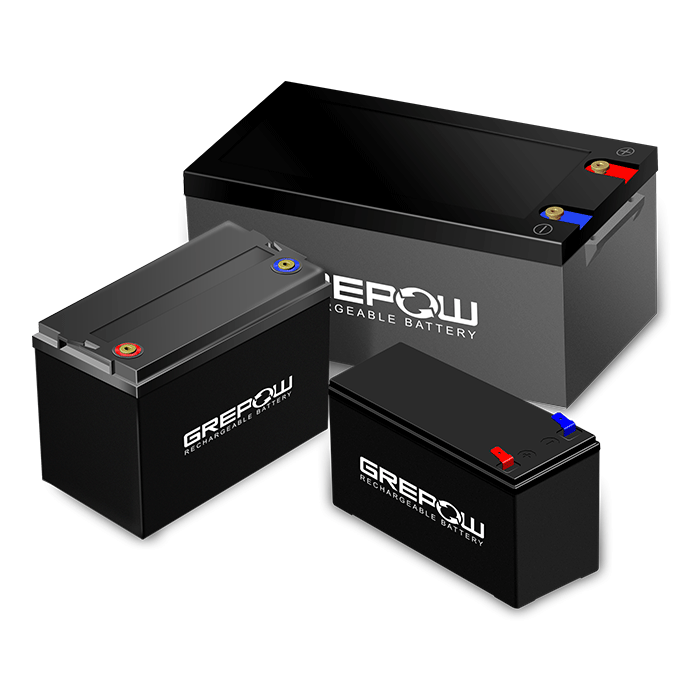 Grepow LiFePO4 modular battery uses self-developed innovative technology to achieve the high power performance of lithium iron phosphate battery and also extend the service life of the battery. Grepow provides modular lithium iron phosphate battery: cell customization + battery management system (BMS) + structural design of the integrated power system customization services, using proprietary battery raw material formula, high temperature resistance, high energy density ratio The battery is made of lithium iron phosphate (LiFePO4). Lithium iron phosphate material has the advantages of environmental protection, non-toxic, high working voltage, high performance, etc. We can also customize the modular lithium iron phosphate battery for different industries according to the actual needs of users, so that your products have a greater competitive advantage.
  ▶Source manufacturer, physical factory, strong R&D production capacity, short delivery time and sufficient stock
  ▶Self-developed battery cells, sufficient capacity, refusal of false label, guaranteed capacity
  ▶Strict quality control: construct a comprehensive quality system from parts to finished products to ensure product quality
  ▶Safe and reliable in accordance with a variety of domestic and international battery certification
  ▶Perfect service system: quickly respond to customer problems and provide solutions
  ▶Provide local instant customer support in China, USA and Germany
We offer the following services.
  ●Flexible support for customized solutions
  ●Reliable and stable performance
  ●Sample and mass production available
  ●OEM, ODM services available
Modular LFP Battery Applications
  The lithium iron phosphate modular batteries developed and produced by Grepow are widely used in communication power systems, UPS power systems, off-grid or micro-grid systems, security and protection systems, emergency lighting power supplies, portable medical equipment, and any fast-charging high-capacity, high-voltage or high-rate starter power equipment.

Inquiry
01

Evaluation
02

Specification & Verification
03

Quotation
04

Sample Production
05

Price Verification
06

Production Schedule
07

Shipment
08