Join Grepow at AI EXPO TOKYO 2023 to Explore the Future of Artificial Intelligence
Editorial:phina
Issue Date:2023-05-08
Views:1616
Dear customers and industry colleagues,

We are delighted to announce that Grepow Battery will be participating in AI EXPO TOKYO 2023, held from May 10th to 12th at Tokyo International Exhibition Center. As a pioneering event in Japan, AI EXPO TOKYO brings together the latest advancements, research, applications, and services in the field of artificial intelligence (AI), capturing global attention and emerging as a leading trade show in the AI industry. We cordially invite you to visit our booth and join us in exploring the future of AI.
Invitation from Grepow

Event Details:
Date: May 10th to 12th, 2023
Booth Number: Halls 1-2, 7-24
Location: Tokyo International Exhibition Center | Tokyo Big Sight
About AI EXPO TOKYO
AI EXPO Tokyo is Japan's largest trade show for AI technology companies to introduce their technologies to various industries. This show is held twice a year under NexTech Week Tokyo, a comprehensive trade show that gathers advanced technologies such as AI, blockchain, and quantum computing. By holding these three shows together, it creates a synergy to attract more professionals from those industries.
AI EXPO TOKYO offers an exceptional platform that attracts professionals and innovative companies from diverse sectors. As representatives of Grepow Battery, we will showcase our latest technological innovations and solutions, engaging in discussions about the applications and future trends of AI in different industries.
The Spring edition of AI EXPO Tokyo 2023 will be held from May 10th to 12th at Tokyo Big Sight, where more than 1,300 companies are expected to participate. With over 70,000 professional visitors from Japan and around the world, this exhibition is the perfect opportunity to meet potential customers, partners, and investors.
About Grepow
With a proud legacy of 25 years in the battery industry, Grepow Battery has accumulated extensive experience and technical expertise. We have always been committed to independent research and development, manufacturing, and marketing, aiming to provide high-performance, reliable, and innovative battery solutions. Our product range includes polymer lithium batteries, NiMH batteries, custom-shaped batteries, button batteries, lithium iron phosphate batteries (LiFePO4), battery packs, and more. These batteries find wide-ranging applications in AI, smart wearables, portable electronics, medical devices, consumer electronics, industrial backup power, and various other fields.
As a battery manufacturer participant in the exhibition, we will showcase micro batteries and customizable consumer battery cells at our booth. Furthermore, you will have the opportunity to network with leading companies and professionals in the industry, fostering collaborations and contributing to the advancement of AI technology.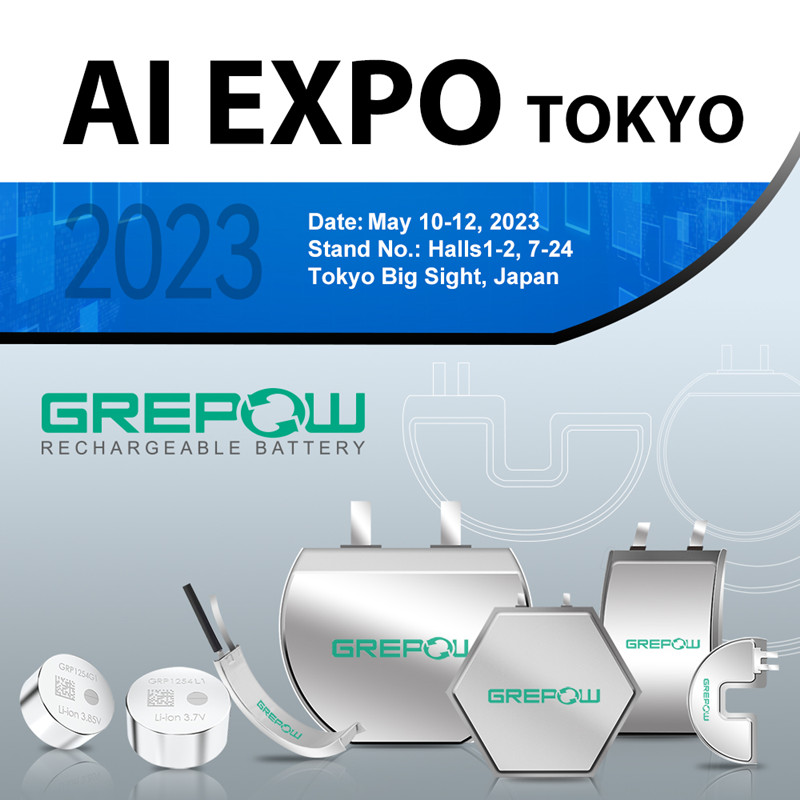 We sincerely invite you to visit Grepow Battery (Halls 1-2, 7-24) at AI EXPO TOKYO 2023, located at Tokyo International Exhibition Center, and embark on a journey into the realm of AI possibilities. Experience firsthand the innovative solutions we bring to the table and join us in thought-provoking discussions on the transformative impact of AI across industries.
For more information about Grepow Battery and our participation in AI EXPO TOKYO 2023, please feel free to contact us at info@grepow.com. We look forward to welcoming you at our booth.
Related Articles
Related products
Comment(0)
Comment( Your email address will not be disclosed. Required fields are marked as * )