Lithium-ion Polymer (LiPo) battery cells with normal voltages are fully charged at 4.2V while high-voltage lithium polymer (LiHv) cells allow for a higher cut-off charging voltage at 4.35V. 4.4V, or 4.45V.
What is a LiHv battery?
A LiHv battery is a different type of Lithium-ion Polymer battery where "Hv" stands for "high voltage". It is more energy intensive than traditional LiPo batteries. A LiHv battery is capable of charging to 4.35V or higher per cell while the peak cell voltage of a normal lithium polymer battery is 4.2V and the nominal voltage only 3.65 to 3.7V.
Advantages of LiHv battery
Higher-end voltage
LiHv batteries have a higher nominal and peak cell voltage than their normal LiPo counterparts, which allows for a higher charging cut-off voltage. The difference in voltages might seem minimal at first in one cell, but the advantage of high-voltage batteries becomes more apparent with an increased number of cells in a battery pack.
Higher capacity, longer run time
The energy density of a battery reflects the battery's capacity for energy storage per unit volume. Based on the limited space and weight of the power supply, the battery energy can be boosted by increasing the charging voltage, which is where we see the fully-charged voltage increase from 3.7V to 3.8V or even 3.85V. This method is mass-producible, and the battery capacity can be increased by about 15%.
The following graph reflects the difference in capacity between three fully-charged batteries at 4.2V, 4.35V, and 4.4V:
As shown in the figure above, LiHv batteries can release more capacity than ordinary LiPo batteries, allowing your device to have a longer duration time.
Customizable shape
Batteries used in wearable devices are very delicate and require less power. A slight change in capacity enables the battery to have a longer duration. 
LiHv batteries can also be customized into different shapes and sizes, which not only fulfills the internal space of the devices they power but also extends the operational time.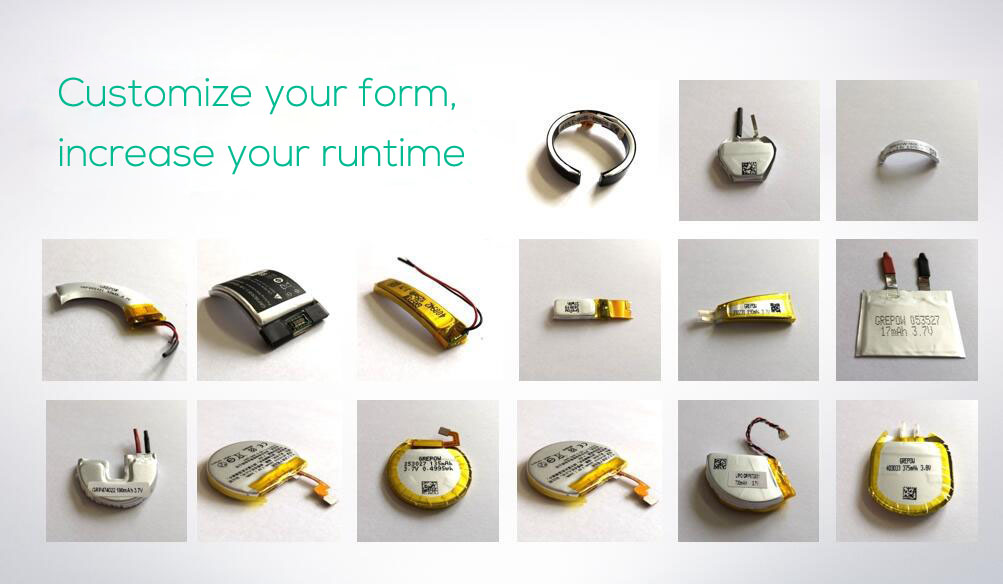 Can I charge normal LiPo batteries to 4.35V?
The maximum charging voltage for normal LiPo batteries is 4.2V per cell.  Anything more than this is overcharging the battery, and it is not recommended.
Overcharging comes with consequences: it can cause changes in the structure of the cathode material or cause a loss of capacity or a violent chemical reaction when oxygen and electrolytes are released.  In worst-case scenarios, there can be explosions or fires.
Even if the battery doesn't swell or catch on fire, overcharging will cause damage to the battery and reduce its life and performance. 
There are, of course, various Smart batteries on the market that are being equipped with a battery management system (BMS) that can set the appropriate charge cut-off voltage (LiHv battery: 4.35V, LiPo: 4.2V), but many batteries that are used for drones or RC vehicles usually do not have a BMS.  Users that do not have a BMS built into their batteries should set the cut-off voltage appropriately on their chargers in order to avoid overcharging.
4.4V LiHv battery
Generally, LiHv batteries are usually known for having their maximum charging voltage be at 4.35V, but Grepow has a unique chemical formula that can provide it at 4.4V or even 4.45V. 
You can see in the chart above that the high-voltage 4.4V battery marked in green has a higher rate discharge platform and higher discharge capacity.
At the same number of cycles, you can see how the 4.4V battery has a higher percentage of its original capacity remaining compared to the 4.2V battery.
Learn more about Grepow LiHv battery
The following are simple specifications of two 4.4V LiHv batteries:
GRPB042104
Voltage: 4.4V

C-Rate: 5

Capacity: 7,100mAh

Weight: 102.0 ± 3.0 g

Thickness: 10.7 ± 0.3 mm

Width: 41.5 ± 0.5 mm

Length: 103.5 ± 0.5 mm
GRP8674133
Voltage: 4.4V

C-Rate: 5

Capacity: 12,000mAh

Weight: 176.0 ± 5.0 g

Thickness: 8.3 ± 0.3 mm

Width: 75.5 ± 1.0 mm

Length: 132.0 ± 1.0 mm
Contact us for a complete list of batteries.
About Grepow
Keep an eye on Grepow's official blog, where we'll regularly update industry-related articles to keep you up-to-date on the battery industry.
Grepow: https://www.grepow.com/
Grepow Blog: https://www.grepow.com/blog/