Thin Batteries for Wearable Devices
Editorial:
Issue Date:2019-10-02
Views:125
Thin batteries are some of the smallest. Although these batteries are very small in size, they provide a stable voltage to power electronic devices and outperform button batteries at higher discharge rates. The technology behind thin batteries originated with Grepow's development of wearable batteries. After years of successful development, Grepow has developed thin LiPO Batteries. Grepow's engineers changed the battery layout to maximize usable space. Grepow can now offer
shaped batteries
from 8mm to as thin as 0.4mm. The battery's original cylindrical shape wasted space, so Grepow's engineers changed the battery layout. They developed thin batteries as bags with square cells and also sealed the customized mixture of cells and materials to prevent moisture and ensure battery life.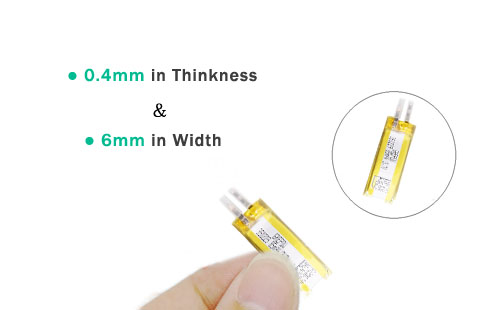 These thin batteries have many use cases
Guard against theft
Using thin batteries in small trackers with valuable materials is more effective than using RFID tags that must be scanned manually. Because the battery is small, the tracker can be carefully installed to prevent thieves from tampering with the tag.
Medical technology
While developing new technologies to better care for an aging population, many medical-technology companies are also following the industrial trend of the Internet of things, with a large number of connected devices feeding back information to a central point. Wearable devices and sensors are seen as a way to continuously monitor vital signs in hospitals and outside the medical environment. In hospitals, doctors can use wearable devices that can measure health without confining patients to their beds, but they can also use things like SensiVest.
Intelligent security
Smart security systems are becoming increasingly common in homes to prevent intruders, monitor entrances and detect floods. The global smart home security market is expected to reach $18 billion by 2020. Most smart security services can be controlled by a smartphone app that displays a real-time camera and allows homeowners to view alerts. As smart security sensors monitor more of the house, the device's power requirements have changed. Sometimes they can't all be powered from a central source because the wires are not practical or obvious.
Other applications of thin batteries
Grepow produces high-performance thin batteries for Mini-phone card, Bank cards, Smart card, information cards, heating clothes, smart shoes, a smart belt, military, portable sensors, smart labels, micro speakers, medical equipment, tracking devices, and others. Our R&D team works closely with clients to provide the best solution for their batteries.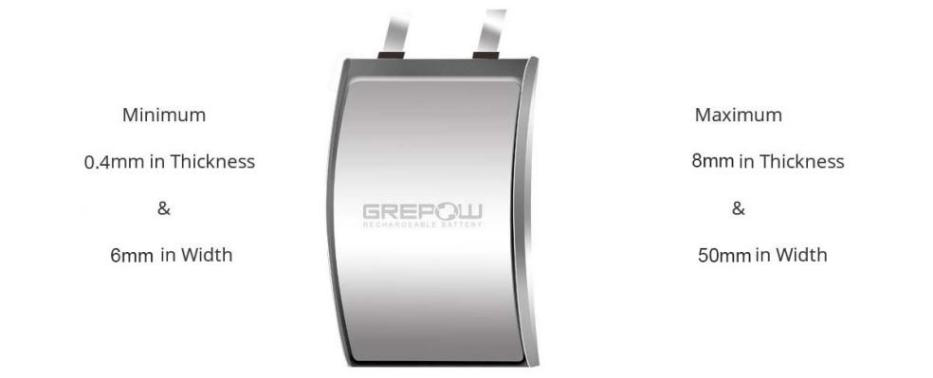 Some Thin Battery Model from Grepow
| Model No. | Voltage (V) | C-rate | Capacity (mAh) | IR (mΩ) | Weight (g) | Type |
| --- | --- | --- | --- | --- | --- | --- |
| AGP0849049-12A | 4.35 | 1C | 140 | ≤150 | 3.6±0.3 | ultra-thin battery |
| AGP0449049-12A | 4.35 | 1C | 48 | ≤220 | 1.9±0.3 | ultra-thin battery |
| AP0849049-12A | 4.2 | 1C | 135 | ≤150 | 3.6±0.3 | ultra-thin battery |
| AP0422055-12A | 4.2 | 1C | 22 | ≤600 | 0.9±0.1 | ultra-thin battery |
Grepow's
ultra-thin battery
technology is crucial in these applications. As home automation continues to improve, battery manufacturers should think about how to best power the many sensors and devices that make up a network of smart security systems. If manufacturers of home automation devices fail to use innovative battery technology to ensure that batteries last and are reliable, end users will soon be frustrated and are unlikely to invest in further technology. If you are interested in our products, please don't hesitate to contact us at any time! Email:
info@grepow.com
Grepow Website:
https://www.grepow.com/
Related Articles
Related products
Comment(0)
Comment( Your email address will not be disclosed. Required fields are marked as * )