The best LiFePo4 battery for solar street light
Editorial:JOE
Issue Date:2019-12-30
Views:1367
For most renewable energy systems, as like solar street light, the most important battery characteristics are the battery lifetime, the depth of discharge and the maintenance requirements of the battery.
Some solar street lights produced with Lead/VRLA/AGM batteries by default. However, the total cost of ownership (TCO) of these types of batteries is much higher than that of lithium batteries - even though lithium batteries may appear to be more expensive at first glance.
Lithium battery VS Lead-Acid
So, why we choose lithium batteries instead of Lead-acid?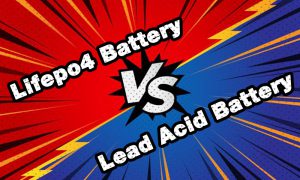 Flexibility
The same lead-acid battery is heavy in weight, larger in volume and small in energy density. The lithium battery is small in size, light in weight and easy to transport. Compared with the lithium-ion energy storage system and lead-acid gel battery used in solar street lights, the weight and capacity are about one-third of lithium batteries. As a result, transportation is easier and is costs also reduced.
Durability
Lithium battery has higher energy density and longer service life. The lithium battery cycle life of more than 2500 times, lead-acid battery cycle life of 800 times; the energy density of lithium battery is around 150Wh/kg, lead-acid battery is about 40Wh/kg; the charging time of the lithium battery can be full within 4 hours, and the lead-acid battery is generally full around 6 hours;
Accessibility
Solar street lights using lithium batteries are easy to install. When installing traditional solar street lights, a battery pit needs to be reserved, and the battery is placed in the ground box to seal it, or install the lithium battery on the bracket, using a hanging type or a built-in type. Then, it is easy to maintain and replace. The lithium-ion solar street lights only need to remove the battery from the pole or battery panel during maintenance, while traditional solar street lights need to dig out buried batteries, which is more troublesome than lithium-ion solar street lights.
Efficiency
Lithium battery charge and discharge electrical energy efficiency is better, lithium-ion battery charge and discharge energy conversion efficiency can be greater than 97%, and lead-acid battery charge and discharge energy conversion efficiency is about 80%, the same lithium battery than lead-acid battery volume Small, the volume of a lithium-ion battery is about 2/3 of the volume of a lead-acid battery;
Why do we recommend LiFePO4 (LFP) batteries for solar street light?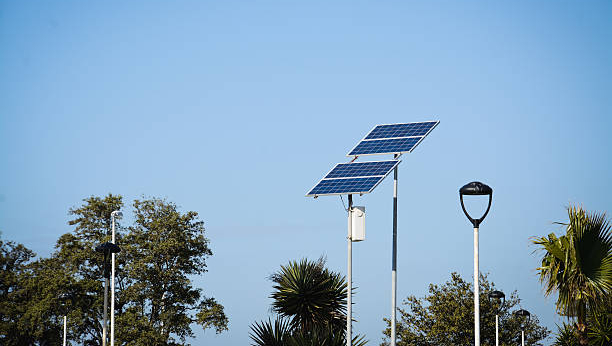 Solar street lights (Source: Internet)
Today, many electronic systems are backed up or operated by solar energy and solar battery storage. These systems, such as closed-circuit monitoring systems, remote alarms, and environmental monitoring systems, may require direct current (DC) power storage, as well as other systems such as Motorola's vehicle, marine. In the past few decades, Lead-acid (AGM) batteries have been their product of choice for decades, and now Lithium iron phosphate (LiFePO4, LFP) batteries play an important role.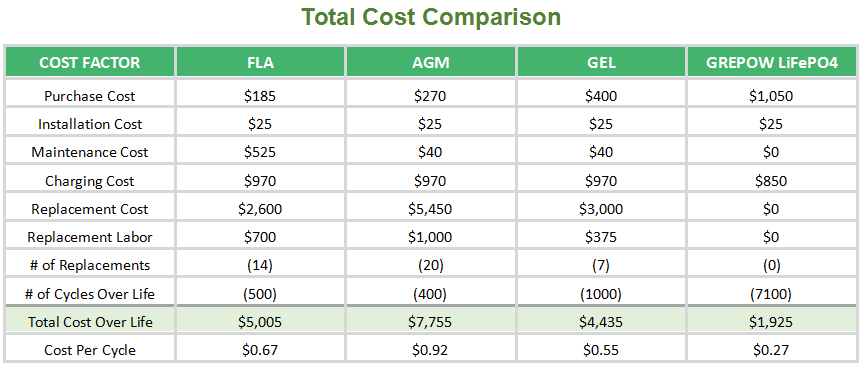 Comparison between LFP and Lead-acid
The systems using AGM batteries require replacement once a year to ensure reliability. Generally, the labor cost of replacing AGM batteries exceeds the cost of the product itself, especially in Australia, Europe, North America and other places. The risks and hazards of frequent battery replacement cannot be ignored.

Learn more about battery
Keep an eye on Grepow's official blog, and we'll regularly update industry-related articles to keep you up-to-date on the battery industry. Grepow: https://www.grepow.com/Grepow Blog: https://blog.grepow.com/
Related articles:
Lithium Iron Phosphate (LiFePO4) vs Lead Acid Batteries
Related Articles
Related products
Comment(0)
Comment( Your email address will not be disclosed. Required fields are marked as * )