12V LiFePO4 battery recommendation for industrial applications
Editorial:
Issue Date:2020-04-26
Views:1025
The 12.8V LiFePO4 batteries can be perfectly used to replace 12V Nimh / Nicd / Lead Acid Batteries, the high capacity and BMS features are the advantages for industrial applications.
What Industrial applications are?
The industrial applications are always be recognized as high power desirable and used in extreme conditions, so it must focus on the durability and reliability of the product lifespan.
In general, industrial application divided into three types:



Measuring, mapping and surveying equipment;




Detection and inspection equipment;




and Production equipment.
Industrial applications have unique power requirements, the batteries they choose is different to ordinary batteries, it is hard to buy alternative or replacements that perfectly fit, so sometimes customized industrial batteries are more desirable and relatively inexpensive.
What are 12V industrial LiFePO4 batteries?
Lithium Iron Phosphate (LiFePO4, LFE) is a new generation Li-Ion rechargeable battery for high power applications, such as EV car, Power Tool, and RC hobby. LFP cells feature with high discharging current, non-explosive, long cycle life ( >2000@0.2C rate, IEC Standard), but its energy density is lower than normal Li-Ion cell (Li-Co) (higher NiMH cell). Please click Knowledge on LiFePO4 battery to learn more detail. LFP cell has 3.2V nominal working voltage and shall be cut-off power at 3.6-3.8V per cell during charging.
Recommendations of 12V LiFePO4 batteries for industrial application
12V lithium-ion battery pack is generally composed of 4 lithium battery cells connected in series. The nominal voltage of a single lithium polymer pouch cell is 3.7V, the lithium iron phosphate pouch cell is 3.2V, the voltage of the series battery is added:
3.2V * 4 = 12.8V
Which is what the 12V lithium battery we see.
Grepow 12V 7Ah LiFePo4 modular battery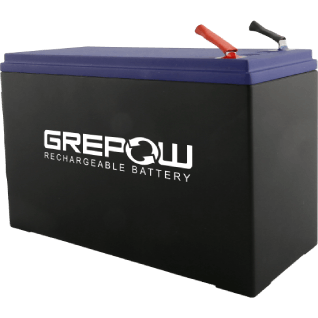 Chemistry: lithium iron phosphate (LiFePO4)
Nominal Voltage: 12.8V
Nominal Capacity: 7Ah
Voltage / Capacity Extension: Up to 4S10P (Max. 51.2V 70Ah)
Dimensions (L x W x H): 151 * 65 * 92 mm

Power connector: Faston 6.35mm
Charge Current: 7A/23A (Max.)
Discharge Current: 23A (Continuous);30A (<30s, Max.)
Life Cycles: 2000 charge/discharge cycles (at 100% DOD at 1C)
Charging mode: Constant current and Constant voltage
Case: ABS material Case:
IP rating: IP66
BMS:
Overcharge protection

Over-discharge protection

Over-current protection

Short circuit protection

High and low-temperature protection

Equalization function
If you need custom LiFePO4 modular battery,please feel free to contcat us at info@grepow.com.
More LiFePO4 Cells details: click here
Grepow 12V 100Ah LiFePO4 battery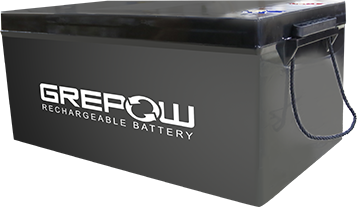 Properties

Parameters

Chemistry

Lithium Iron Phosphate cell (LiFePO4) / Lithium-ion battery

Capacity (Ah)

100Ah (100,000mAh)

Nominal Voltage (V)

12.8V

Energy

1280Wh

Internal Impedance

≤5m Ohm

Charge voltage

14.6V

Charge current

50A / 100A (MAx.)

Discharge current

50A / 100A (Max.)

Discharge cut-off voltage

8.8±0.3V

Operating Temperature

Charge: 0~+45℃

Discharge: -20~+60℃ (0.2C discharge current be recommended at -20℃ or 60℃)

Storage Temperature

Less than 1 month (-20℃~+60℃); Less than 6 months (-20℃~+30℃)

Weight

≈15kg

Dimensions

327*217*172mm

Applications

UPS battery, home solar system, forklift, kayaking, boat, golf cart, street lamp
If you need custom LiFePO4 modular battery,please feel free to contcat us at info@grepow.com.
More LiFePO4 Cells details: click here
Grepow 12V 50Ah LiFePO4 battery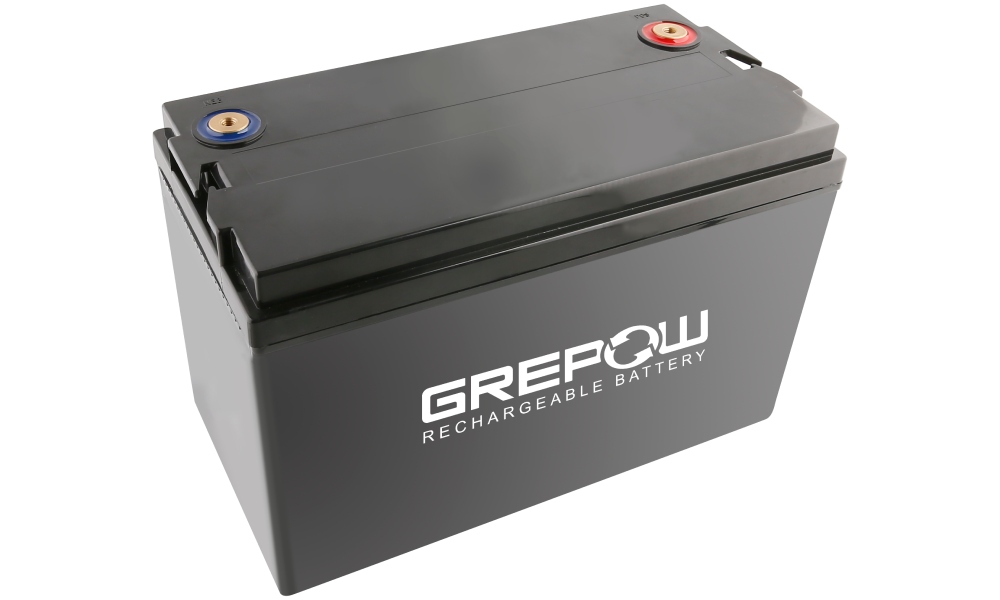 Properties

Parameters

Chemistry

Lithium Iron Phosphate cell (LiFePO4)/ Lithium-ion battery

Capacity (Ah)

50Ah (50,000mAh)

Nominal Voltage (V)

25.6V

Energy

1280Wh

Internal Impedance

≤10m Ohm

Charge voltage

29.2V

Charge current

25A / 50A (Max.)

Discharge current

10A (Standard); 100A (Max continued discharge current)

Discharge cut-off voltage

17.6±0.4V

Operating Temperature

Charge: 0~+45℃

Discharge: -20~+60℃ (0.2C discharge current be recommended at -20℃ or 60℃)

Storage Temperature

Less than 1 month (-20℃~+60℃); Less than 6 months (-20℃~+30℃)

Life Cycles

2000 charge/discharge cycles (at 100% DOD at 1C)

Weight

15kg

Dimensions

327 x 172 x 217 mm

Applications

UPS battery, home solar system, forklift, kayaking, boat, golf cart, street lamp
Learn More
If you want to know about our new product, or know more about what the industrial battery is, please feel free to contact us via phone or email: Phone: +1-925-364-7166 (USA) / +49-(0)218-25700755 (Germany) Email: info@grepow.com
Website: https://www.grepow.com/
Related Articles
Related products
Comment(0)
Comment( Your email address will not be disclosed. Required fields are marked as * )