Product Features of Special Shape Lithium Ion Button Cell Battery
- Fast Charge Capability

- High Discharge Current up to 20C

- High Energy Density≈470Wh/L

- Long Cycle Life Expectancy

- Safety Reliability: UL, IEC, etc.

- Customize solution available

- 42 Patented Innovations

- Low internal Resistance (IR)
Parameters of GRP1254 Heart Shaped Button Cell
Chemistry: LiCoO2

Nominal Voltage: 3.7V

Watt Hour: 0.170Wh

Capacity: 45mAh~65mAh

Internal Impedance: 200mΩ (approx)

Max Charging Current: 135~195mA/3C/1.1hr

Full Charged Voltage: 4.2V

Charging Temperature: 0℃ to +45℃

Discharge Cut Off Voltage: 3.0V

Max Discharging Current: 90~130mA/2C (continuous)

Discharging Temperature: -20℃ to +60℃

Storage Temperature: -20~35℃ (customizable)

Customize Shape: Yes

Cell Pack: Yes

Free Sample: Yes

Custom Size Button-Cell battery Solution
Grepow provides the custom button battery solution, 100% match your product structural design, tailor-made the Diameter (9~16mm), Height (2.5~6.0mm), or shape.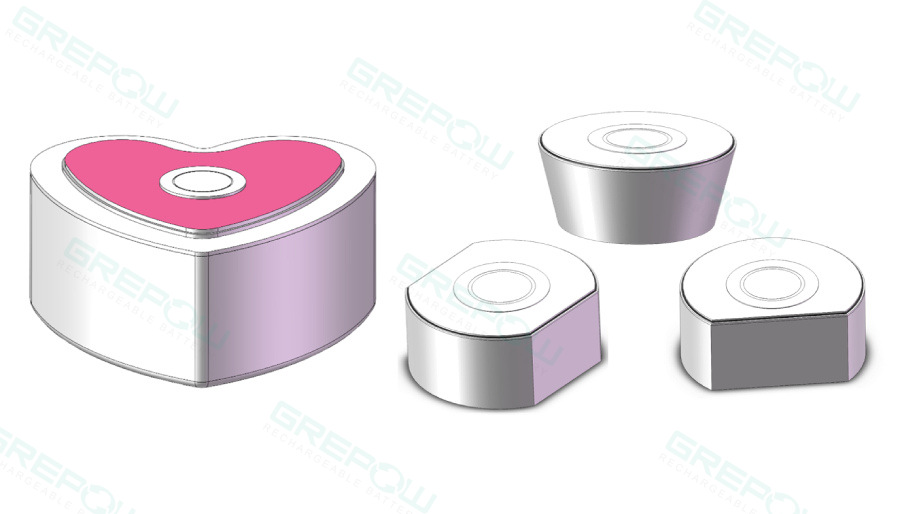 Why choose Grepow Custom Li-ion Button Cells
Special-shape lithium ion button cell battery adopts the laminated (stacking) production process, compared with the traditional coiling process button battery, the laminated process button battery products have the advantages of low internal resistance, good multiplier performance, high discharge platform voltage, long battery cycle life, etc. At the same time, the battery thickness and shape adaptability is stronger, and the application scene is more extensive!

You can get the following services

● Flexible support for customized solutions (including assembly solutions )

● Reliable and stable performance

● Samples and mass production available

● OEM, ODM services available

  

Examples for different coin-cell battery assemblies
Special Shape Lithium Ion Button Cell Application
Grepow Custom-Shaped button batteries are used in wearable devices, medical devices, Internet of Things, smart home, automobiles, TWS headphones, etc especially to power the electronic innovations. We can also customize rechargeable coin cell batteries according to customer needs, including the diameter, thickness, shape, capacity, voltage, etc. Coin cell batteries can make full use of the internal space of the device to provide greater capacity and longer endurance, our R&D team works closely with customers closely to provide the best power solution for their products.

Inquiry
01

Evaluation
02

Specification & Verification
03

Quotation
04

Sample Production
05

Price Verification
06

Production Schedule
07

Shipment
08