The RC LiPo battery swelling problem may have been bothering you. In our previous article, video explained why batteries swelling and failures. Lithium polymer (or lipo) batteries have a higher energy output than standard lithium batteries, they are primarily used in drones and RCs.
However, the battery pack inside a lipo battery can expand for a number of reasons, including heat, overcharging or over-discharging, and cause a fire or even an explosion. While all lipo batteries will naturally expand at some point, there are some ways to extend their life and ensure their safety in use.
Expansion of the battery has a certain risk, once the battery swell, the best is to stop using, so as not to cause other damage. Therefore, from the time we buy the RC lipo battery, we must start to prevent battery swelling and take some protection measures.
Here's a list of a few ways for you to prevent it.
Use a high quality charger.
Use a charger with high visibility. Basically, the charger will keep the current or charge rate constant until the battery reaches its peak voltage (4.2v per cell in the pack). It will then maintain that voltage while reducing the current. On the other hand, NiMH and NiCd batteries are best charged using the pulse charging method. Charging LiPo batteries in this way can be a damaging effect, so it is important to have a LiPo compatible charger.
Choose a charger with a balancing feature. This feature ensures that each battery releases the same amount of power, helping to improve battery performance and avoiding premature signs of battery weakness. There are actually many functions that the RC charger can have. If all the functions are integrated into one charger, the volume and weight will bring a certain degree of drag.
It is worth mentioning that Gens ACE's new IMARS III charger has the functions required by ordinary chargers, weighs only 0.4kg, is exquisite and compact, and is convenient to carry out.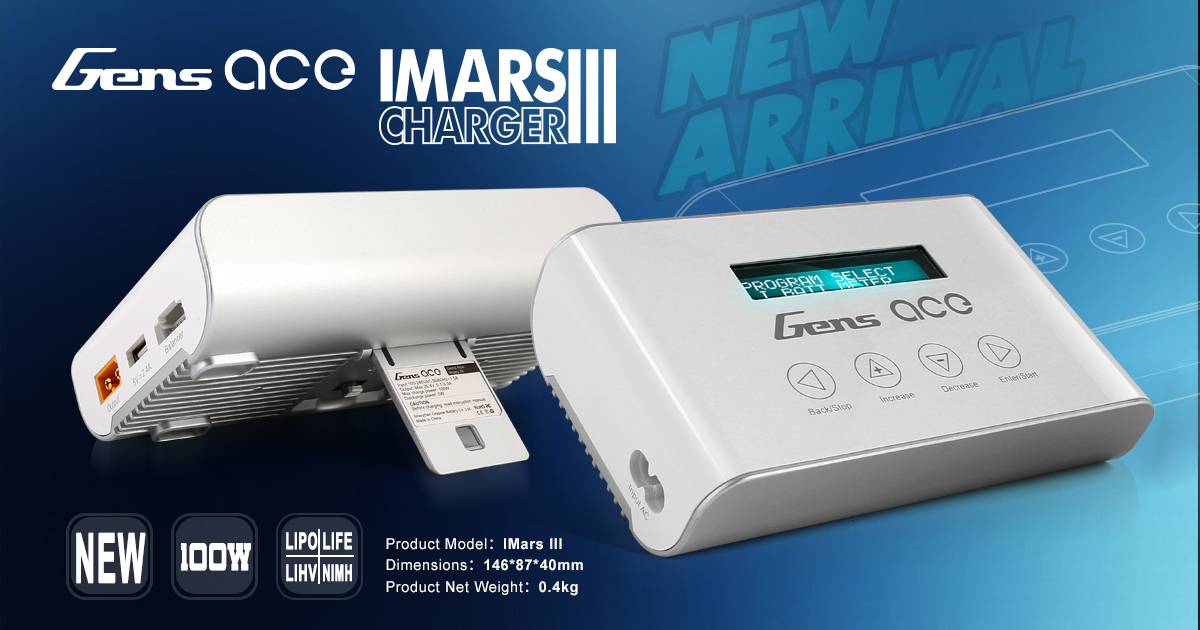 Avoid overcharging and discharging.
Our previous experiments with overcharging batteries resulted in severe bulging, although the batteries did not explode. Overcharging and discharging are very damaging to the battery and may cause destruction of the electrode active material and loss of responsiveness.
Use and store the battery at room temperature.
Always store lithium polymer batteries at room temperature. Do not charge devices in direct sunlight or near a heat source, and do not store them in a hot garage or in a cold environment. LiPo batteries naturally get hot when used or charged, so before using or storing them, you need to give them some time to cool down and get them in normal as well as optimal condition.
Conclusion
The discharge of the battery is obtained by the reaction of substances inside the battery, and all extreme means will affect these substances and the effect of the reaction. Taking the right approach to use can bring you more energy, but also save costs and continue to power your devotion.
If you are interested in our products, please don't hesitate to contact us at any time!
Email: info@grepow.com
Grepow Website: https://www.grepow.com/