Low-temperature lithium batteries are generally used in the fields of military weapons, aerospace and aviation flight, missile loading equipment, extremely cold north and south poles, Korean emergency rescue, power communication equipment, medical electronics, railways, ships, intelligent robots, etc. . At this stage in the world, there are actually quite a few domestic low-temperature lithium battery companies, but there are relatively few well-known low-temperature lithium battery brands in the country with relatively strong comprehensive strength. Let's take a look at the domestic low-temperature lithium battery companies today?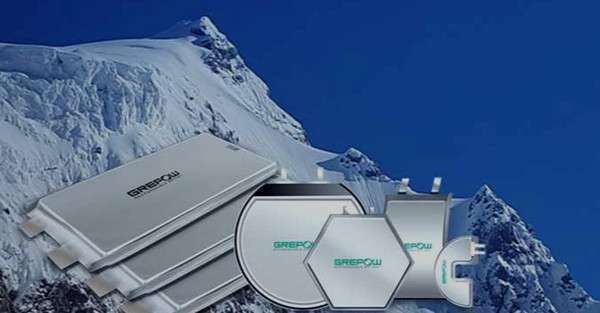 What are the low-temperature lithium battery companies?
The top lithium low-temperature manufacturers
Grepow – The source manufacturer of low-temperature lithium batteries
Shenzhen Grepow Battery Co., Ltd. was established in 1998, abbreviation Grepow, the name is derived from the merger and rewriting of the word "Green Power", which means to provide green energy and reduce pollution. Therefore, the company was established for the purpose of producing more environmentally friendly rechargeable batteries-nickel-metal hydride batteries, replacing disposable batteries, dry batteries, and nickel-cadmium batteries.
The working environment of Grepow's low-temperature lithium polymer battery is in the low-temperature range of -50℃ to 50℃. A low-temperature lithium battery is a special battery specially developed by Grepow to overcome the inherent low-temperature defects of chemical power supply performance. Grepow low-temperature batteries adopt innovative design concepts, proprietary formula systems and materials, and rigorous manufacturing processes to overcome many technical bottlenecks and develop low-temperature lithium battery series.
At present, Grepow low-temperature batteries are mainly produced for GPS, car trackers, military radios, disconnection indicators, aerospace, deep-sea snorkeling, polar science, exploration, cold belt rescue, disaster relief, winter clothes, cold shoes and other systems. Low-temperature battery. Our R&D team works closely with customers to provide suitable solutions for their battery applications.
BYD Co., Ltd.
Founded in 1995, a well-known brand in the field of new energy vehicles in China, and builds a comprehensive solution for new energy. Realize the strategic layout of six continents in the world. BYD's business layout covers electronics, automobiles, new energy, rail transit and other fields, and plays a pivotal role in these fields, from energy acquisition, storage, to application, to build a zero-emission new energy overall solution.
Tianjin Lishen Battery Co., Ltd.
Tianjin Lishen Battery Co., Ltd. (hereinafter referred to as Lishen Battery) is a state-controlled mixed-ownership high-tech enterprise founded in 1997. Lishen Battery adheres to the business philosophy of technical quality, green energy, and benefiting mankind, and focuses on providing customers with overall power solutions. Products include round (pillar), square, power and polymer batteries, photovoltaic systems, and super capacitors. A large series of nearly a thousand models. Product applications cover three major areas: consumer electronics, new energy vehicles and energy storage.
Aviation Industry Corporation of China
Affiliated to China Aviation Industry Corporation. The company's main products are power batteries and power systems, covering two major systems: lithium iron phosphate and ternary systems. The single capacity covers 10Ah to 500Ah. The main application areas include: electric vehicles, electric energy storage and special power sources. The company adheres to technical support and innovation-driven, and has established scientific research platforms such as enterprise technology centers, academician workstations, and post-doctoral scientific research workstations. It has jointly established the "AVIC Power and Energy Storage Battery R&D Center" with Xiamen University, forming a wealth of power battery technology reserves.
Guangdong Lions New Energy Technology Co., Ltd.
Was established in 2001 and is an enterprise specializing in the construction and operation of lithium battery manufacturing, energy storage systems and energy storage power stations. More than 70 companies at home and abroad in which the company holds shares, and their business scope covers renewable energy power generation, smart energy management and transmission and distribution, lithium battery manufacturing, construction and operation of energy storage systems and energy storage power stations, and the design of electric intelligent transportation vehicles The three loops of clean energy production, storage and application, such as development and manufacturing, and new energy vehicle leasing operations.
Thornton New Energy Technology Co., Ltd.
The company's business has covered lithium battery cathode materials, precursors, battery cell production; battery management system (BMS), battery packaging (PACK), battery cloud platform research and development; Internet + second-hand battery recycling, second-hand battery cascade utilization, waste battery regeneration technology, etc. field. Thornton New Energy has a technical management team with doctoral, master or invention rights holders as the main force. Relying on the platform advantages of the company's technology center and post-doctoral workstation of the Sunder Group, Thornton New Energy has conducted cutting-edge technology industry-university-research cooperation with many prestigious universities. Key core components such as battery materials, power lithium batteries and group technology, and battery management systems have professional technology.
Maxell (Shanghai) Trading Co., Ltd.
Maxell was founded in 1960 in Japan, under the Hitachi Group, a micro-battery manufacturer, high-tech data media, audio-visual, and energy industries. As an international company that can meet local needs, the company's production and sales networks are distributed in the United States/Mexico, the United Kingdom/Europe, and China/Malaysia, covering major markets around the world. The service network of the central organization in Japan is also constantly Extend outward. Since April 2011, Hitachi Maxell Co., Ltd. has been divided into Hitachi Maxell Energy Company and Hitachi Maxell Brand Company. Hitachi Maxell Energy will focus on the development of batteries and new energy business expansion, while Hitachi Maxell Brands will push more Maxell brand products to the global market.
Tianjin Gateway Power Industry Co., Ltd.
Tianjin Gateway Power Industry Co., Ltd. was established in April 2009 and is located in Tianjin Xiqing Automobile Industrial Zone. In order to further enhance the scale effect, the company started the construction of the power battery project in Yancheng, Jiangsu in November 2017. The project will adopt professional lithium-ion battery preparation technology and technology to realize the automation, information and intelligence of the production line. The first phase is planned The production capacity of 2.5GWh has been built, and all the products are soft-pack laminated power batteries.
Guangzhou Penghui Energy Technology Co., Ltd.
Established in 1994, a well-known domestic energy battery brand, Penghui Energy (Shenzhen Growth Enterprise Market, stock code 300438), a listed company specializing in R&D and production of disposable batteries and rechargeable batteries, mainly produces lithium polymer, lithium ion, and nickel metal hydride. Such as secondary rechargeable batteries, lithium iron, lithium manganese, lithium thionyl chloride, zinc air and other primary batteries. Penghui firmly believes that quality is the foundation of enterprise development. The company establishes and perfects its own quality assurance system in strict accordance with the requirements of the ISO9001:2008 system. From raw material procurement, raw material inspection, process control to finished product shipments, there are complete, systematic and scientific Operating norms to ensure stable product quality.
Samsung Energy Trading (Shanghai) Co., Ltd.
Under the Samsung Group, it started with the vacuum tube/display tube business. Samsung SDI started with the vacuum tube and display tube business, and gradually entered the LCD, PDP, AMOLED and other product businesses, sowing the seeds of hope in the barren land of the Korean electronics industry, and reaping the joy of hard work. At present, Samsung SDI has established the goal of becoming a "So Good Company". The so-called So Good Company refers to a fair company that allows customers, shareholders, and employees of partner companies to benefit. Samsung SDI not only hopes to become a company that satisfies all parties and is loved by the public, but also hopes to develop into a company that is recognized by the world and that employees can be proud of. This is the great blueprint of Samsung SDI. The lithium-ion secondary battery business opens a new chapter in human society and the energy industry! To be such a good company that satisfies customers, shareholders, partner companies and employees! After more than 40 years of development, to build a company with a history of 100 years in the future, Samsung SDI wants Always be with customers.
Conclusion
The above is the current domestically strong and well-known low-temperature lithium battery brand at this stage. If you need to purchase wholesale low-temperature lithium batteries. Grepow is the domestic comprehensive More powerful lithium battery manufacturers, most of the processes used in the production and manufacturing equipment are automated, and the equipment is mostly advanced imported manufacturing equipment. The accuracy of the low-temperature battery production and manufacturing is very high, which greatly reduces the manual operation. The defect rate problem makes the low-temperature lithium battery more consistent; in terms of talents, there are 3000+ battery manufacturing skilled employees, 200+ experienced lithium battery and nickel-hydrogen battery R&D and manufacturing engineers, and the double comprehensive strength guarantee can be Provide customers with high-quality low-temperature lithium batteries that meet actual needs.