Apple Smart Ring- Real Life Lord of the Rings!
Editorial:Amily
Issue Date:2019-10-23
Views:826
Apple media Appleinsider reported that Apple may be developing the next wearable device - Apple Smart Ring. It may have some of the features of the smartwatch Apple Watch that can manipulate nearby wireless devices. The US Patent and Trademark Office certified Apple's patent, called the "device, method and user interface for wearable electronic rings." According to patent data, the smart ring consists of a processor, a wireless transceiver, a power supply, and a microphone. It also includes other sensors that replace the user's gestures, as well as the dial of the Digital Crown of the Apple Watch.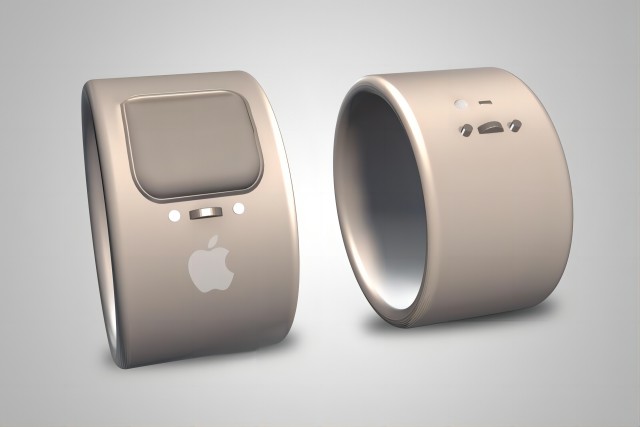 The tactile actuator inside the ring can provide force feedback and "communication direction information" to the user; the motion sensor can sense the writing action; the biosensor can track the health data; the wristband also supports NFC communication, and the identity can be connected via the wireless connection. The information is transmitted to the second device, and some are used to unlock the Mac.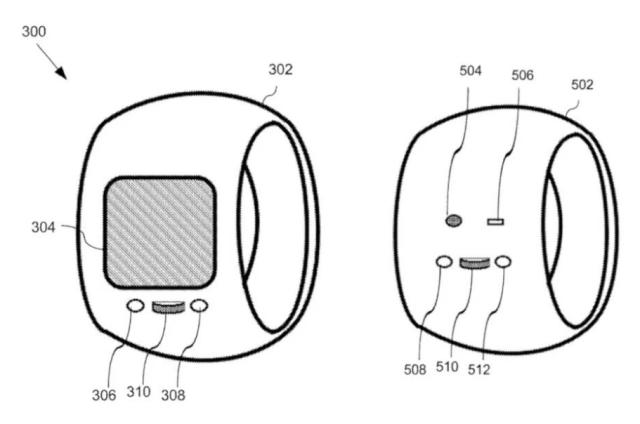 Apple Ring Demo Picture Source: Apple Patent ReportApple-defined gestures include pointing a finger with a ring to another device for a wireless connection, or a swipe or flick gesture to change the selection in the menu, and rotating the finger to indicate the rotation of the device screen, and so on. When the user touches or taps the surface, it vibrates slightly, giving the user force feedback.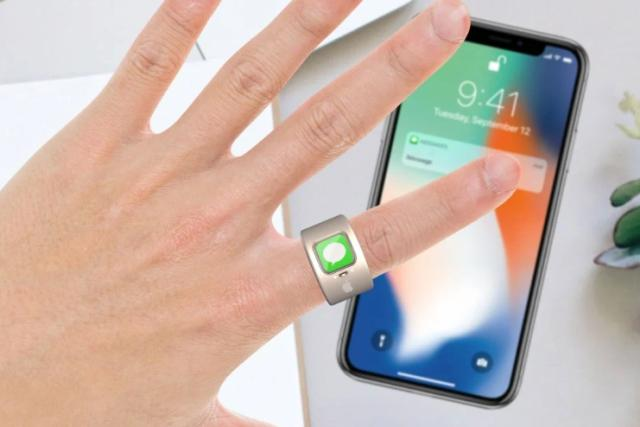 Like the Apple Watch, Apple may also define it as an auxiliary health product. Because the multiple transmitters included in the device allow for more accurate motion detection. In addition, it also has a touch screen that supports text input methods similar to Apple Watch. Apple submits a large number of patent applications every week. Not all concepts are completely converted into final products, but Appleinsider believes that it does indicate the areas of interest that Apple is researching and developing.
Earlier in 2015, Apple submitted a patent application saying it was developing a wearable smart device smaller than the Apple Watch, called the "Apple Ring." The user can wear a ring with a touch display on the index finger and intervene with the thumb. For Apple, the pursuit of smaller and lighter wearable devices is a reasonable trend. Although Apple Watch is considered a successful work, there are still many people who prefer mechanical watches and think it should be embarrassing. Naturally, if a smart ring can achieve the same effect in a more inconspicuous way. However, from the current patent picture, it seems that this ring is not too good-looking - at least similar to the traditional ring.
In addition, it is worth mentioning that Apple is not the only big technology company that is developing smart rings. Amazon recently also launched a smart ring called Echo Loop, which has two microphones that can be activated by pressing a button. When you need to connect to Alexa, you still need to rely on another separate host device for behavior processing and Data Connections.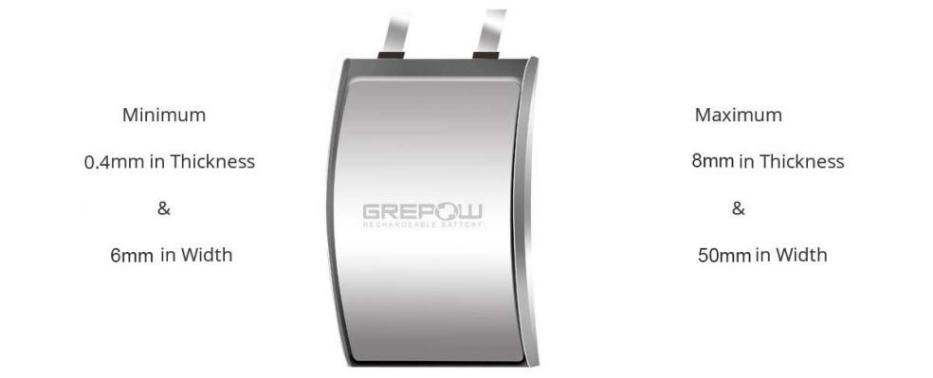 Battery life has long been a problem for wearables. Custom shaped batteries to fit into any and all available space in your product for maximum efficiency. Grepow also carries many off-the-shelf products to help you quickly develop products. Grepow specializes in custom, semi-custom, and off-the-shelf battery supplies. By utilizing Grepow's proprietary formula in our custom shaped cells, it will empower you against your competition. Grepow's high discharge rate technology and fast charging capabilities will allow you to overpower your competitors and lower downtime between uses. Here's a case of Grepow smart ring battery:

| | | | | | | |
| --- | --- | --- | --- | --- | --- | --- |
| Min.Capacity (mAh) | Internal Impedance (mΩ) | Max. T, (mm) | Max. W, (mm) | Max. L, (mm) | Tab Distance (mm) | Tab width (mm) |
| 12 | ≤1,750 | 2.96 | 9.93 | 10.50 | 3.5~5.5 | 1.5 |
Grepow not only engineer and manufactur products in China, but also have warehouse both in USA and EU. This helps our customers and keeps us in lasting, long term relationships with both our customers and our factories. We pride ourselves in being easy to work with, and in developing custom products VERY QUICKLY.
If you are interested in our products, please don't hesitate to contact us at any time! Email: info@grepow.com
Grepow Website: https://www.grepow.com/
Related Articles
Related products
Comment(0)
Comment( Your email address will not be disclosed. Required fields are marked as * )