TWS (True Wireless Stereo) headset market has exploded for 5 years, attracting many players to join in the last 5 years, showing a hundred flowers. By the beginning of 2022, the TWS headset is still hot, and its sales are still growing steadily with the improvement of TWS headset performance and the continuous enrichment of functions.
According to the "State of Audio Product Usage Report 2021", among the electronic devices owned by consumers, smartphone ownership has reached 100%, while the ownership rate of TWS headphones is only 35%. At present, the latter (TWS products)is mainly used with the former(smartphones). From the cell phone and headset, ownership can be seen, the future of the true wireless headset market is still huge, there is a very broad space for development. In addition, the report's research results show that in 2021, almost all the use cases of TWS are on the rise, of which voice calls and games have the most growth in the use of scenarios.
With years of development, the upstream, midstream, and downstream industry chains of the TWS headset market have matured and improved, but this market still has a lot of incremental space and still has the value of mining.
This article does a data analysis of the TWS headset market, sorting out the market development of TWS headsets in the past few years, analyzing the driving factors for consumers to buy TWS headsets based on the available data, and making a prediction on the future technology development trend of TWS headsets to help each manufacturer to have a preliminary judgment on the market.
01. 2018-2021 TWS headset global shipments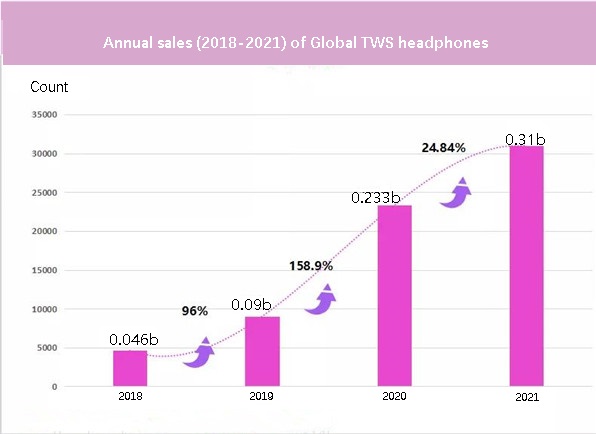 Global TWS headphones annual sales
2018 TWS headphones global sales of 0.46 billion units;
2019 TWS headphones global sales of 0.9 billion units;
2020 TWS headphone global sales of 233 million units;
2021 TWS headset global sales of 310 million units.
TWS headset global shipments have increased year by year in recent years and are expected to continue the growth trend in the coming years.
02. 3 main reasons for the growth
2022 TWS headset market will continue to grow, Here are the main reasons:
(1), TWS headset the first wave of user replacement has arrived;
(2), TWS headset has new technology, new features, to enable more new usage scenarios, such as heart rate monitoring ;
(3), TWS headset brands are rich and competitive, and each other's market share has changed, leaving opportunities for new brands;
Since 2018, TWS headset products have entered the consumer's vision. After 4 years of market development and product iterations, 022 will usher in the culmination of the first users of previous years to replace and upgrade; At the same time, TWS headphones continue to develop and change in technology and applications. TWS headphones developed into a quality audio experience and high-quality wearing experience from the beginning can only listen. 2022 TWS headphones will also usher in technical upgrades and changes, such as the addition of a heart rate monitoring function, Which will give TWS headphones more use scenarios and functions to bring consumers more experience. In addition to the above two points, TWS headphones brands and products are becoming more and more abundant, and consumers' choices are becoming increasingly diverse, which is followed by more TWS headphone brands will be more popular with consumers.
03. TWS headphones competitive landscape analysis
TWS headset brands are getting richer and richer, what are the main manufacturers?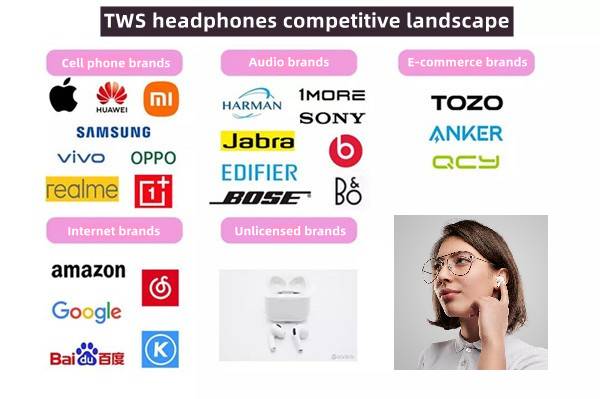 TWS headphones competitive landscape
Through long-term tracking and understanding of these cell phone manufacturers launched at least 3 TWS headset products each year, and both the function and appearance are upgraded. Besides the cell phone brands, there are traditional audio brands that also continue to launch new TWS headset products. Not only emerged many popular explosive products but also in the forefront of technology. Despite the e-commerce brand in 2021 suffering a major earthquake in the e-commerce industry, there are still several continuing to grow and develop. In addition, many Internet brands have joined the TWS headset camp and launched a new TWS headset as well.
04. Branded TWS headphone shipments in 2021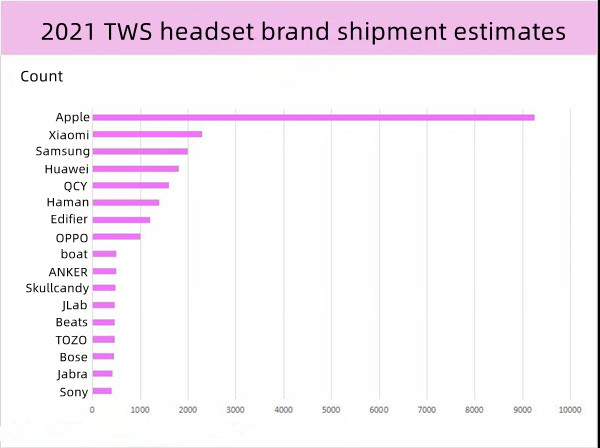 2021 TWS headset brand shipment estimates
According to publicly available data platforms, it was found that
2021 TWS headphone shipments of more than 10 million units of brands including Apple, Xiaomi, Samsung, Huawei, QCY, Harman, Wanderer, OPPO, and other brands; ANKER, Skullcandy, JLAB, Beats, TOZO, etc. shipped in 2021 shipments of 1-5 million units.
In summary, the TWS headset market in 2022 will get continuous growth both in terms of consumer demand, and technology. Functional development space from 2018-2021 TWS headset global shipments can be seen in the TWS headset market boom, will continue to drive the TWS headset battery market boom in 2022. As you know, a pair of TWS headphones need 3 electric cells to power, mainly divided into headset batteries and rechargeable compartment body batteries. From the form, full in-ear headphones mainly uses the bean-type (button cell) battery; semi-in-ear headphones battery mainly are pin-type or polymer soft pack (button pouch cell) batteries; charging compartment body battery is mainly polymer soft pack square battery.
As for the users, they usually have a deeper sense of the battery life of the headsets, which in turn has a more direct impact on the user experience. Button cell battery compared to the other two batteries (pin battery, polymer soft pack battery), has the highlights of high energy density, saving space, etc. Button-cell battery has become the main battery solution for headphones selected by high-end TWS brands.
05. Button cell battery for TWS headphone manufacturers

Grepow TWS headphone batteries
In the long run, the global TWS headset is moving forward at a high speed. Only TWS headset battery manufacturers continuously iterate technology, form the patent groups of the core technology, and achieve the production capacity and process of supporting the upgrade, can the TWS headset manufacturers take a larger global market share.
Grepow as one of the TWS headset battery manufacturers has been committed to the research, development, and production of wearable batteries. To more perfectly meet the TWS headset battery and headset charging compartment space size and structure, Grepow developed GRP1254 and GRP1054 button-cell batteries are the replacement for the old TWS headset lithium polymer (lipo) coin cell battery technology. With a maximum discharge multiplier of 20C, all the power is just a zap away. Our innovative capped steel case construction has been patented for design and production; Grepow produces lighter, safer, and more powerful TWS headphone batteries; and can also support custom shapes and sizes to provide you with a high quality, proven wireless headphone lithium polymer battery solution, which injects unlimited power into a limited space!