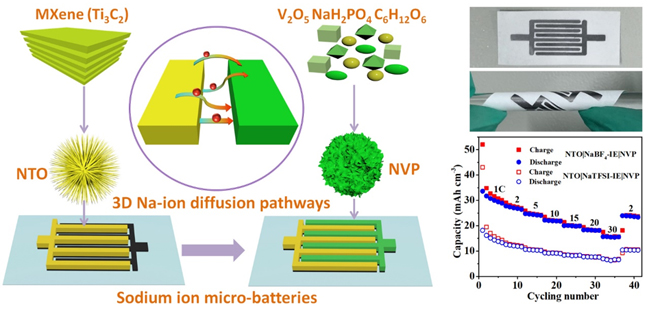 (source for image: www.cas.cn)
Recently, the research team of Wu Zhang Shuai from the DICP (Dalian Institute of Chemical Physics) of the Chinese Academy of Sciences cooperated with the team of Bao Xinhe and Professor Yu Yan from the University of Science and Technology of China to develop a high-rate quasi-solid-state Sodium-ion microbattery and revealed the multidirectional transport mechanism of Sodium ions.
In recent years, microelectronics and microsystems such as wireless sensors, implantable medical devices, and wearable electronic devices have developed rapidly, and there are urgent needs for high-performance microbatteries. Lithium-ion microbatteries are currently the most popular micropower source, but there can be issues with the scarcity of lithium resources and rising costs. Compared with Lithium metal, Sodium is rich in resources, low in cost, and similar in electrochemical performance. Therefore, the development of Sodium-ion microbatteries has promising prospects.
Recently, a research team designed and developed a Sodium titanate cathode and a Sodium vanadium Phosphate anode supported by a three-dimensional interconnected graphene network to prepare a high-throughput electron-ion, three-dimensional transmission microelectrode. Through these, they successfully constructed a planar quasi-solid-state Sodium-ion microbattery and developed a NaBF4-based ionic liquid gel electrolyte (NaBF4 / EMIMBF4 / PVDF-HFP), which has the advantages of high ionic conductivity (8.1mS / cm), wide voltage window, and non-flammability.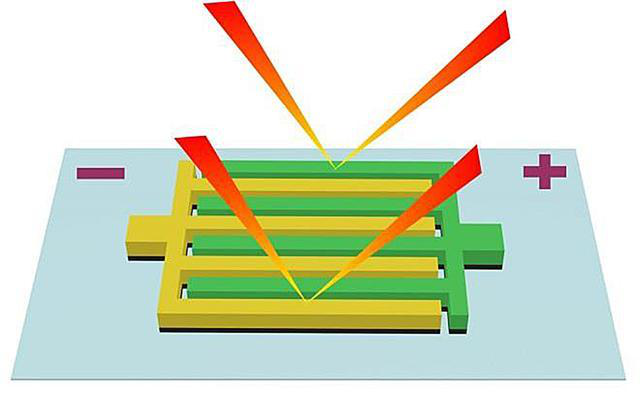 Interdigitated microelectrode structure without separator
(source for image: www.cas.cn)
The advantages of the planar structure, the dominant tritium capacitance contribution, and the multidirectional mass transfer of sodium ions have effectively doubled. The sodium-ion microbattery has high capacity (30.7mAh / cm3) at room temperature and excellent rate performance. At room temperature and 30C, its specific capacity is 15.7mAh / cm3; at 100 ° C and 100C, its specific capacity is 13.5mAh / cm3.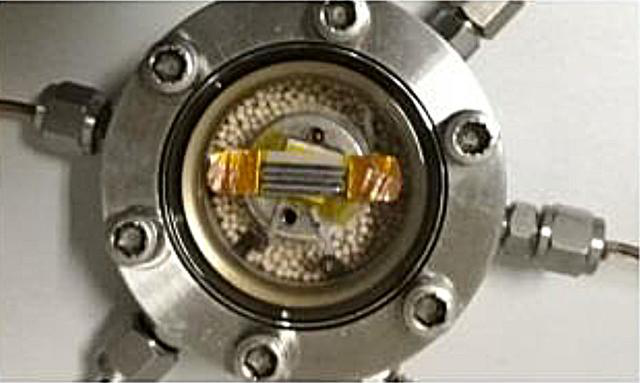 Battery samples in Raman spectroscopy experiments
(source for image: www.cas.cn)
In addition, the sodium-ion microbattery has excellent flexibility, adjustable output voltage and capacity, and high surface energy density (145 μWh / cm2 or volumetric energy density 55.6 mWh / cm3).
Finally, combining in-situ and quasi-in-situ characterization, the research team proposed that the planar micro-energy storage device is an ideal electrochemical model for the in-situ study of the charge storage mechanism, which in turn can simultaneously study the structural evolution and Morphology changes. This work provides new ideas for designing microbatteries with high energy density and high power, as well as the energy storage mechanism in situ.
Flammability test.
A: Commercially available Sodium-ion gel electrolyte
B: NaBF4 gel electrolyte
(source for image: www.cas.cn)
Related research results were published in Energy & Environmental Science. The above work was supported by projects such as the National Natural Science Foundation of China, the National Key R & D Program, and the Clean Energy Innovation Research Institute of the Chinese Academy of Sciences.
More about microbatteries at https://www.grepow.com/page/shaped-battery.html