Grepow Battery is the gold sponsor of The Battery Show, we participate in the 2020 Digital Day virtual event, which will be held online from November 10 to 12.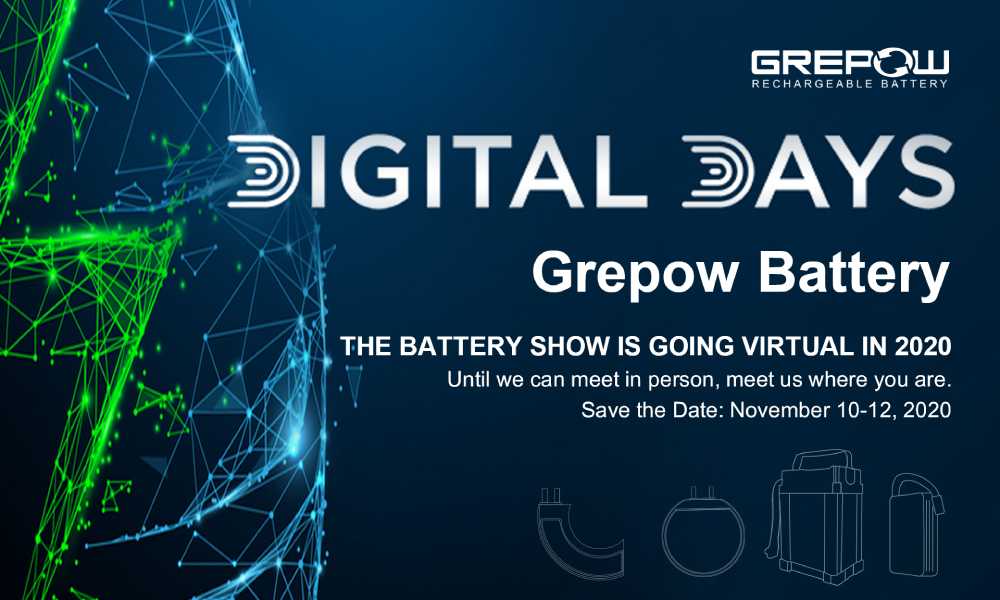 The Battery Show & EV Tech Digital Days
Taking place over three days November 10–12, 2020, The Battery Show & EV Tech Digital Days is a virtual event filled with technical sessions, panels, workshops, networking opportunities, live product demos, and more—all delivered through a state-of-the-art virtual platform.
Get ready to not only connect with the community from The Battery Show North America, but also the larger advanced battery and EV/HEV tech community from our sister event, The Battery Show Europe in Stuttgart, Germany.
We're excited to bring you Digital Days and keep the community connected until we meet in person in Novi, MI September 14–16, 2021.
The Digital Days Conference Program
The Battery Show Digital Days conference will dive into key issues and trends affecting the advanced battery and EV/HEV industries. Hear from top level experts from NAATBatt International, Fiat Chrysler, Siemens, and US Department of Energy as they share their perspectives and insights on everything from the state of electrification, thermal management, recycling, and charging technologies..
Digital Days is designed to be fully immersive and interactive through moderated Q&As, panel discussions, lightning talks, and leaders' roundtables.
How to find Grepow in The Battery Show:
The Battery Show (Glod Sponsor - Grepow Battery): https://www.thebatteryshow.com/en/home.html
Grepow Official website: https://www.grepow.com/