Welcome to CES 2020!
CES 2020 is about to be held from 7th - 10th Jan, 2020. CES (Consumer Electronics Show) is the world's gathering place for all who thrive on the business of consumer technologies. As the largest hands-on event of its kind, CES features all aspects of the industry. Grepow will also be there showing up our emerging battery technology product shaped battery especially for various consumer electronics. Grepow booth: Sands, Halls A-D - 44073 .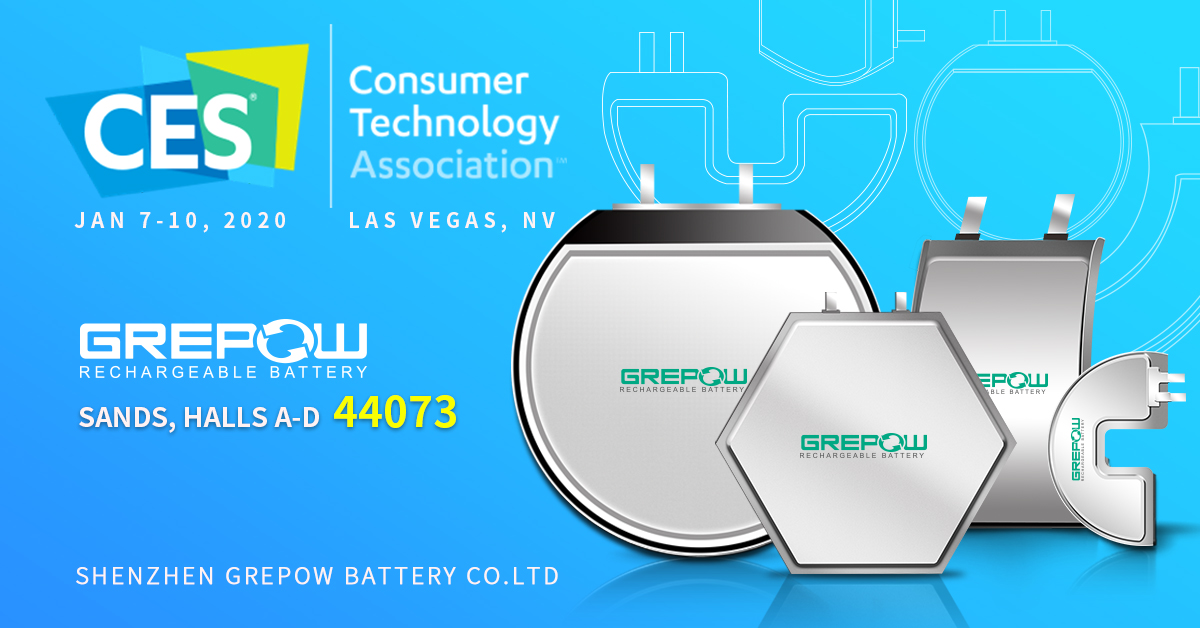 Grepow shaped batteries
We specialize in custom, semi - custom, and off - the - shelf batteries. At the 2020 CES, there will be a variety of shaped batteries: ultra thin battery, curved battery, round battery, triangle battery, hexagon battery, ultra narrow battery, C shape battery, D shape battery , polygonal battery, rectangl battery and etc. Customized novel shaped lipo batteries can be made to fit in different designs of consumer electronic devices. Every shape is possible!
Ultra-small

Thickness between 0.4~8mm, width between 6~50mm.

Ultra-safe

Meet the requirements of ROHS, CE, UL, UN38. 3, MSDS and other certification.

Wide operating temperature

Can be used at temperature -50 ℃~50 ℃ or 20 ℃~80 ℃.

Fast charge ability

Support 3C quick charge, maximum C-rate can reach 40C.

Here's why we are better
Grepow is the world's leading battery manufacturer. In the past 20 years, we have continuously developed battery technology to meet the various needs and grow together with our customers. No matter what you want, please contact us, we can stick together to explore and develop.
21 Years of Battery Reseach and Manufacturing Experience

Total of 4 factories, covering an area of 15.2 hectare. Production Capacity: 300,000 Ah / per day

Over 3,000 skilled workers and 200 professional engineers

Serve over 5,000+ customers
What interests you on our battery?
Regardless of what battery you requested, here is what you get. We will arrange a professional battery engineer for you at CES 2020. All you need is to fill in the following form. Grepow will be there waiting for you!