Nickel-metal Hydride Battery Features
●Ultra-high capacity

●Strong fast charging capability

●High cost-effectiveness

●No memory effect

●Operating temperature range (-20℃ to 50℃)

●Ultra-low self-discharge

●Longer cycle life


●High rate discharge


●Environmentally friendly, no pollution


●Safe and reliable in compliance with various certificates, such as ROHS, CE, UL, UN38.3, MSDS, etc.!
High Discharge C-rate NiMH Basic Parameters
  Battery type: High Discharge C-Rate NiMH
  Nominal voltage: 1.2V
  Discharge rate: 10C~15C
  Full-Charged voltage: 1.5V
  Discharge termination voltage: 1.0V
  Product Size: A/AA/AAA/C/D/F/M/SC
  Operating temperature range: Charging: 0~40℃;Discharging: -20~50℃.
  Compared with conventional NiMH batteries, high-rate NiMH batteries have higher discharge voltage, which can meet the requirements of 1C fast charging, 10C~15C high rate discharge; the cycle life is as high as 2500 times.
Why choose Grepow customized high rate NiMH batteries?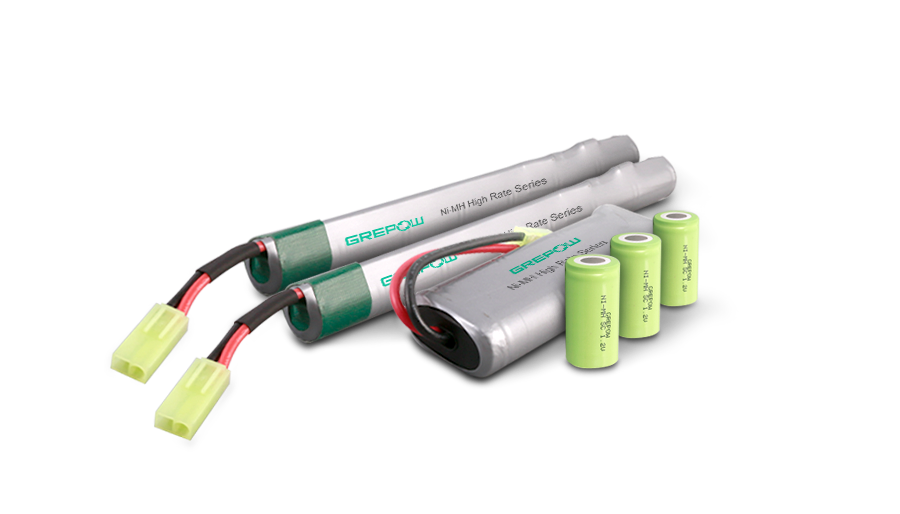 Producing more environmentally friendly rechargeable nickel-metal hydride batteries, Grepow founded in 1998 has 25-year experience in the production of Ni-MH batteries. The production plant area of 63,000 square meters, the number of employees is about 1,300 people, 80 R & D and technical personnel, 100 quality inspection personnel, who mainly research and develop in producting Ni-MH batteries. The daily capacity of NiMH batteries is 500000 pcs, Grepow also supports NiMH battery customization (including low temperature NiMH battery customization).
  ▶ Source manufacturers, physical factories, strong production capacity, short delivery time, sufficient stock.
  ▶ Independent battery cells, capacity, refused to false labeling, guaranteed capacity
  ▶ Strict quality control: construct an all-round quality system from parts to finished products to ensure product quality
  ▶ Complete service system: fast response to customer questions and provide solutions
  ▶ Provide local instant customer support in China, USA, Germany
We provide the following services:
  ● Flexible support for customized production of NiMH batteries according to customer needs in terms of size, capacity, protection plate, and cable length.
  ● Reliable and stable performance
  ● Samples and mass production are available
  ● OEM and ODM services
High Rate NiMH Battery Application Areas
Grepow high rate NiMH batteries are widely used in: shaver batteries, power tool batteries, vacuum cleaner batteries, wine corkscrew batteries, toy batteries, underwater vacuum cleaner batteries, recreational inflatable pump batteries, and medical equipment batteries, etc. Grepow can also customize rechargeable NiMH batteries according to customers' needs, including NiMH battery dimensions, capacity, protective plates, and cable lengths, etc.
Our R&D team works closely with customers to provide the best power solutions for their products!

Inquiry
01

Evaluation
02

Specification & Verification
03

Quotation
04

Sample Production
05

Price Verification
06

Production Schedule
07

Shipment
08