GREPOW's round batteries are proven to deliver good durability and reliability, outstanding performance and long cycle life for fast-growing smart, mobile and wearable electronics.
Applications:
Smart wearable, medical equipment and other portable devices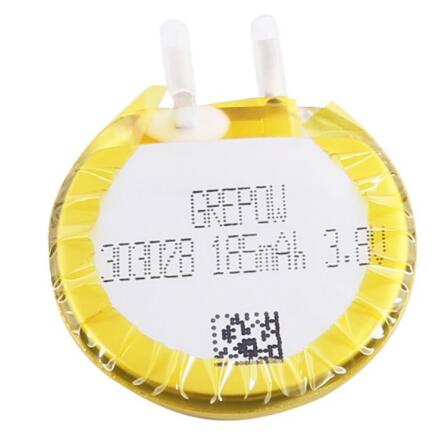 Specifications:
Grepow 185mAh 3.8V Round Shaped Lipo Battery 3030028
Size:27.7*30*2.9 mm
Weight:3.6±0.5 g
Flexible size design subject to different space of application
Thousands of models for micro size with 10mAh-1000mAh
Our Advantage:
1. Your orders will be dispatched via FedEx
2. Fast shipping and excellent local after-sale service guaranteed in the USA or Europe.
3. Service-priority, like the long warranty period and the lower price for buyers.
4. Energy Density: Very High according to capacity/weight. In fact, we are specialists in High Power LiPo Batteries. It is our unique technology, the highest power of our battery is 100C. Another technology is our batteries are able to be stably discharged simultaneously
5. Low IR: Provides stable voltage until the end of your mission.
6. Safety: GREPOW and its partners fulfill the ISO9001, ISO14001, standards.
7. See more Round Batteries' instruction to the link: https://www.grepow.com/page/round-lithium-polymer-battery.html

See more shaped battery instruction to the link: https://www.grepow.com/page/shaped-battery.html

Please feel free to contact us now!
Email us at info@grepow.com