This video will tell you about the different application areas of LiPo batteries and provide you with some help when choosing a battery.
Wide range of applications
Lithium Polymer batteries are all around us. They're in smart-phones, wearable devices, drones, UAVs, medical equipments, and more.
With today's devices getting smaller and smaller, and with many different types of electrical requirements, the traditional cylindrical NiMH and Li-ion batteries, with their immutable shapes, no longer meet the needs of the market.
Customized
Lithium polymers can be made into any shape and fit any device that has a unique design. Lithium polymer can also be made into any size to accommodate certain applications such as smart security access cards, car remote control locks, wearable appliances or even insertable medical devices to check for glucose levels.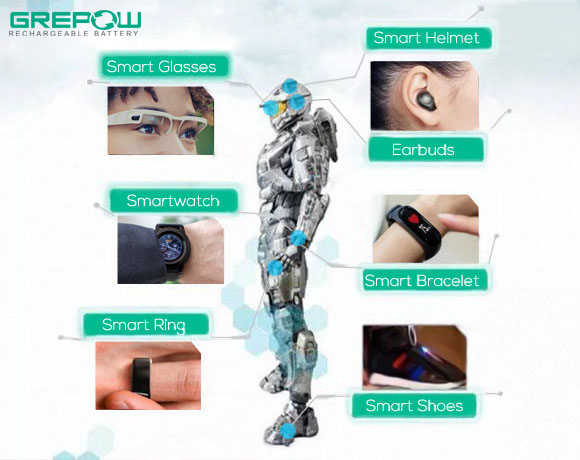 They are also favored by radio control enthusiasts and are popularized in many other applications (including robotics, some newer consumer products, and other system integration projects).
High C-rate
The characteristics of high C-rate make LiPo batteries well used in power tools and jump starters.
Most of the power tools on the market today use cylindrical NiMH batteries, but there has been a trend to switch to li-ion batteries or even pouch cell (soft pack) batteries, and many power tool companies have started testing and using pouch cell LiPo batteries. Because pouch cell LiPo batteries offer high discharge rates (pulse current up to 150c and continuous current up to 50c), they offer greater performance and smoother operation. High C-rate is also needed for drones, UAVs and RCs. 
In addition, when using NiMH or 18650 batteries for power tool batteries, a lot of space is wasted inside the battery pack, but if you use LiPo batteries instead, Grepow's pouch cell LiPo batteries can be customized into different shapes to fill all the space inside the battery case, maximizing the capacity of the battery.
For Jump Starters, which may be better known to people who drive cars, the jump starter on the market is mainly divided into two types of lead-acid batteries and lithium batteries, generally divided into two types of 12V and 24V, most of which use lipo batteries. While cylindrical 18650s tend to have insufficient magnification, the high magnification of pouch cell LiPo batteries allows for discharge currents of 1000, 2000, 3000A for different vehicles. Most of the current jump starters have a micro-USB, type-c interface, which can be used as a power bank, and lipo batteries are very friendly to them.
Other areas
LiPo batteries also play a role in many other areas, such as GPS trackers, IoT devices, portable LED devices, UPS batteries, smart street lights and other devices.
Video
Learn More About Grepow
This is all that we're covering today. If you have any questions about today's topic or have any battery-related things you want to know, please feel free to contact us by email at info@grepow.com. We may answer your question in the next Battery Monday!
If you are interested in our LiPo battery, please view this link: https://www.grepow.com/page/lipo-battery.html
Please feel free to comment to let us know what we could improve and what you will be willing to learn. We will read the comment and provide a high-quality battery knowledge tutorial.
Grepow official website: https://www.grepow.com/
We would keep updating the Battery Monday every Monday!